Million Dollar Earner Priscilla Harrison Joins Visi
January 16, 2014
By Team Business For Home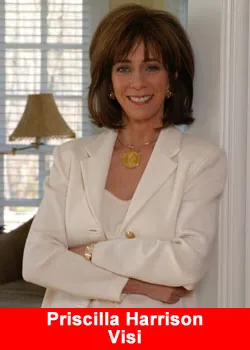 Priscilla Harrison moves from Xango to Visi and says:

As a former dental hygienist from Dallas TX, I was introduced to network marketing 24 years ago on a flight from Dallas to my new home in NC. I saw it, I got it and I was ignorance on fire. There's something to be said about innocence, but reality set in 2 years later when that company filed for bankruptcy.
I didn't know what to look for or what to ask when choosing a company but I learned how to invite, how to ask and how to recruit. You can't put the jelly back in the donut and I was hooked. Hooked but disappointed that all my hopes vanished so quickly. I was hesitant to get involved in another network marketing company and tried to be satisfied with just "settling".
Finally, my husband said to me, "have we ever gone to a bad movie?"….I said, "yes". He said, "do we still go to the movies?", I said "yes". So he said, "it's not the industry that's bad, you just picked the wrong company. You were having fun, making money and meeting great people. You need to go find another company and get to work." So I did.

I've been involved with 2 great companies since and have made crazy money and forged life long friendships. Neil Sedaka says, "breaking up is hard to do" and that's so true but when I can't stand up in the front of a room of people and believe in my heart that people have every opportunity to succeed, I have to start sitting in the back of the room or look for another network marketing home.

These decisions are so hard because emotions are so high and people are so important. They say "a hero's strength is measured by his heart" and that describes my good friend who introduced me to Visi. For 12 months I watched Visi grow. I was in a bad place losing my belief in helping people achieve their goals and dreams. I was fighting that 'wanting to settle again' feeling. Forget that "Big Dream" stuff. Living was just existing so who needs to embrace success. I was borderline becoming very cynical and being that way just wipes the smile off your face.

Through the patience and support of Sr. VP of Sales, Ryan Anderson and after meeting Founder and CEO Kent Lewis and getting to know CFO Paul Frampton and eventually CoFounder and COO Ryan Lewis, I made the transition. Then getting to work with a professional, committed workhorse of a Master Partner like Rick Hagarwas the icing on the cake. The Vísi an them spoke to me in a big way–Don't Settle, Dream Big, Live it, Embrace Success and Smile
Often! I am smiling 24/7 now. All the dots are connected here. Everything makes sense and has a purpose. 10/2 and a chew and 2 a day/10 in play…are you kidding! How fun and how simple and how awesome to have corporate and the field singing out of the same hymn book. Partnering here is real.

Vísi is aligned with the five variables necessary to hit a major home run in the network marketing profession.
1. Experience in the Owner/Executive Team that brings success driven decisions and confidence, not false ego driven hype.
2. Emotional, consumable products that people want and that are easy to understand.
3. Systems and support from field leaders as well as the corporate team that allows for a simple duplication system.
4. A Pay Plan that is doable, without unrealistic hoops and structure to jump through to get paid.
5. Timing and entry point into the lifecycle of a company will determine the ease and speed of growth. It's always better to be in front of growth instead of behind it.

Did it really take me 24 years to find the most perfect company ever? Yes, I'm in love like never before. I feel lucky and blessed like never before and I will work my heart out like never before to see every person who will resist the temptation to 'settle', succeed. The sweet spot of opportunity is upon is. It will never be easier, it will never be faster and it will never be more lucrative than Vísi. I'm all in.

Contact info:
www.PriscillaHarrison.com
www.pkharrison.govisi.com