Talk Fusion Connect Beta Test Adds Multiple Languages
January 30, 2014
By Tina Williams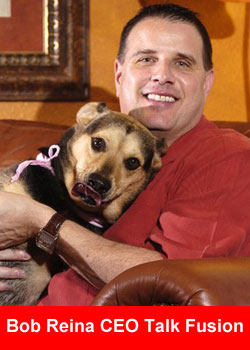 Florida-based video communication and relationship marketing company Talk Fusion has expanded its beta test of forthcoming product Talk Fusion CONNECT, to include 11 languages in addition to English. The new languages being tested are Bahasa (Indonesian), Czech, French, German, Hungarian, Japanese, Polish, Portuguese, Russian, Spanish and Traditional Chinese.
A breakthrough 3-in-1 Live Broadcasting, Video Conferencing and Desktop Share product, Talk Fusion CONNECT is a first of its kind. It uses emerging real-time communication (webRTC) standards to allow anyone, anywhere to meet, chat and share with others online using just a web browser and camera. Talk Fusion CONNECT is expected to redefine the online video-communication landscape, which currently relies on "closed" applications such as Skype and Apple's FaceTime—applications that require both parties to use the same system in order to see and hear one another.
Talk Fusion Customers and independent Associates around the world who own the company's Pro Pak or Elite Product Packages are currently using the product in a limited beta test. With users in more than 140 countries, Talk Fusion is committed to providing a simple-to-use global solution to seamless real-time video communication, offering everyone, everywhere an opportunity to express themselves, broaden their horizons, expand their businesses and even earn additional income by sharing the Talk Fusion products and opportunity worldwide.
Following a brief period of testing for the new languages, Talk Fusion CONNECT will be released worldwide very soon.
"We're very excited about the limitless possibilities that accompany this world's-first product," says Talk Fusion Founder & CEO Bob Reina. "We want as many people as possible to experience what Talk Fusion CONNECT has to offer."
ABOUT TALK FUSION
Talk Fusion is a rapidly growing global company dedicated to changing lives through providing cutting-edge personal and business Video Communication Products and a lucrative business opportunity. Talk Fusion's innovative products are marketed person-to-person by independent Associates in more than 140 countries.
The company was founded in 2007 by CEO Bob Reina and introduced the world's first Instant Pay Compensation Plan. Talk Fusion adheres to the highest ethical business practices and is a member of the prestigious Direct Selling Association (DSA). Reina firmly believes that "with great success comes greater responsibility." To that end, his commitment to giving back has benefited numerous charitable organizations.
Income Disclaimer:
Any earnings portrayed in any Talk Fusion marketing materials are not necessarily representative of the income, if any, that a Talk Fusion Associate can or will earn through his or her participation in the Talk Fusion Instant Pay Compensation Plan. All references to income, implied or stated, throughout the Talk Fusion Instant Pay Compensation Plan are for illustrative purposes only. These figures should not be considered as guarantees or projections of your actual earnings or profits. Talk Fusion does NOT guarantee any level of income or earnings to any Associate; any representation or guarantee of earnings would be misleading. The purchase of a Talk Fusion Product Package is completely optional and is not required for an Associate to participate in the Talk Fusion Instant Pay Compensation Plan.