Tupperware Brands Reports Record Fourth Quarter
January 30, 2014
By Tina Williams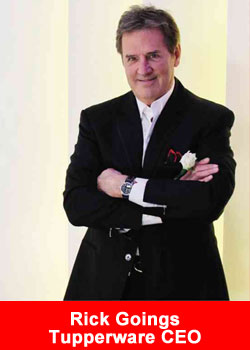 Tupperware Brands Corporation today announced record fourth quarter and full year 2013 operating results.
Rick Goings, Chairman and CEO, commented, We continued to deliver steady top line growth in the quarter. Focusing on our sales force remains our top priority, as increasing its size is key to delivering consistent growth in our business. We had a meaningful sequential increase in total sellers in the quarter, closing the year with 2.9 million worldwide, a 4% increase over the end of 2012. Worldwide, our local management teams have the expertise to drive strategic initiatives in their business units in order to motivate our sales force, and we achieved a sequential improvement as well in the active seller comparison in the quarter. Even with challenging environmental conditions and macro-economic factors in several of our emerging markets, as a group, these markets delivered solid sales growth in local currency, being up 12% over last year. An integral part of our And story, our established markets, while down in total, improved sequentially versus the prior quarter, and several of these markets reported growth as key strategies caught hold.
Goings continued, As we look to 2014, we remain focused on providing a good return to our investors, while continuing to invest at appropriate levels in our business units. Along these lines we're pleased to announce that based on the strength of our results and management teams around the world, and confidence in our continued growth, our Board approved today a 10% increase in our quarterly dividend. We will also continue with our share repurchase program, and anticipate $185 million worth of open-market share repurchases in 2014.
Fourth Quarter Executive Summary
Fourth quarter 2013 net sales were $717 million. Emerging markets**, accounting for 63% of sales, achieved a 12% increase in local currency, driven by large populations, greater penetration and emerging middle classes. Established markets were down 5% in local currency, a 3 percentage point improvement over the third quarter.

GAAP net income of $89.7 million versus $74.5 million in the prior year, which included $13.2 million pretax more of expense items, was up 21% in dollars and 29% in local currency. Adjusted diluted E.P.S. of $1.81 included 9 cents of negative impact versus 2012 from changes in foreign exchange rates, which was 3 cents worse than assumed in October's guidance.

Full year cash flow from operating activities net of investing activities was $263 million, $29 million over 2012 and $13 million over the high end of October's guidance range.

In the fourth quarter, the Company returned $107 million to shareholders through a dividend payout of $32 million and the repurchase of 832 thousand shares for $75 million. Since 2007, 20 million shares have been repurchased for $1.2 billion, with $0.8 billion left under an authorization that runs until February 2017.

Total sales force of 2.9 million was up 4% versus prior year at the end of the quarter, a 4 percentage point improvement over third quarter, with improvement in most markets.
Fourth Quarter Business Highlights
Europe: Continued strong results in Turkey, and Tupperware South Africa's and France's return to growth, offset by impact of low activity primarily in other established markets and CIS
Segment sales, down 1% versus last year reported and down 2% in local currency.

Emerging markets were up 2% in local currency. Primarily driven by Turkey, up 24%, and Tupperware South Africa, up 28%, largely offset by the CIS, down 31%.

Established markets were down 4% in local currency, a 7 percentage point improvement over the third quarter. France's local currency sales were up 2%, reflecting an increase in sales force size and activity. This was largely offset by Germany, which was down 14%, the result of a less active and productive sales force. Successful recruiting resulted in Germany ending the quarter with a 5% sales force advantage.
Asia Pacific: Indonesia, China and Malaysia/Singapore sales up double digit
Sales for the segment up 1% reported and 12% in local currency, driven by the emerging markets up 17% in local currency, led by China up over 20%, Indonesia, up 33% and Malaysia Singapore up 17%. In line with prior quarter, India was only up slightly versus historical double digit increases. Continued focus on mitigating macroeconomic factors in India, as well as focusing top end sales force leaders on recruiting, training and activating sales force members.

Established markets in the segment were down 3% in local currency, as they continued to execute strategies to stabilize and improve sales force and sales force leadership levels.

Active sales force up 5%. The 7 percentage point difference between the sales and active seller comparisons was primarily related to productivity improvement in Indonesia related to higher sales force standards and China due to product mix, as well as from a mix shift toward units with higher average order size.
Tupperware North America: Tupperware Mexico up 14%, including 8-point benefit from higher B2B sales
Segment sales, up 4% reported and in local currency. Tupperware Mexico sales up 14%, reflected a larger and more productive sales force, as well as higher B2B sales, which had a 4 percentage point benefit on the sales comparison for the whole segment.

Tupperware United States and Canada sales were down 3% in local currency. The focus continued on building and strengthening the sales force structure and leadership levels resulting in a higher ending sales force size versus prior quarter.
Full year 2014
Net interest expense is expected to be around $40 million.

Tax rate excluding items is expected to be 25.0%, excluding items and 24.9% on a U.S. GAAP basis.

Reflects $185 million and first quarter reflects $10 million in open market share repurchases.

Diluted earnings per share guidance assumes no change in the current 6.3 bolivar to dollar rate for Venezuela. If the rate had worsened to 63 bolivars to the dollar as of the beginning of 2014, there would have been an estimated $40 million negative pretax impact on 2014 earnings related to amounts on the year end 2013 balance sheet, and an additional $25 million negative pretax impact versus 2013 from translating operating activity at the worse rate. The estimated impact of such a devaluation on 2014 sales is estimated at $100 million.