5 Athletes Join Visalus' Project 10 Challenge
February 21, 2014
By Tina Williams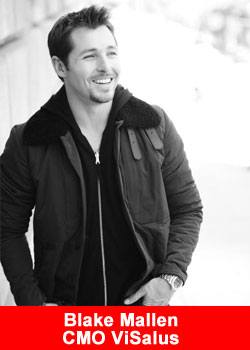 Five of the world's best and brightest athletes, known for their talent and dedication, have embarked on a new challenge of weight loss and fitness. After years of athletic success and excellence, these phenomenal athletes have recommitted to living the dream by joining the ViSalus PROJECT 10™ Challenge. From a gold medalist and new mom who wants to lose her baby weight to the 'Cool Runnings' Jamaican bobsled competitor who wants to shed 20 pounds, each athlete is motivated and determined to succeed.
PROJECT 10, which was developed to recognize and motivate people to achieve their health goals, will award $10,000 every week in 2014 to 10 people ($1,000 each) who lose 10 lbs. or add 10 lbs. of lean muscle during their Body by Vi Challenge™. For each 10 lbs. lost, the company will donate 30 Vi-Shape® Nutritional Shake meals to a child in need through their PROJECT 10™ Kids program.
We are proud to have athletes of this caliber join the Vi Community and commit to The Challenge lifestyle, said Ryan Blair, ViSalus Co-Founder and CEO. Their passion to health and wellness is inspirational to the millions of people who achieved personal fitness victories by taking on The Challenge.
Hockey champion Nancy Drolet, who won a silver medal for Canada in the Nagano Games, immediately accepted The Challenge stating, The whole concept of challenging people is very exciting; it's part of my DNA as a professional athlete. Creating a social environment and being part of a team – whether it's pairing up with co-workers or challenging groups of people – makes the entire weight-loss process simple, viral and fun. You're more likely to achieve your goals if you work together on them.
'Cool Runnings' Devon Harris, the three-time Jamaican bobsledder, whose improbable dream took the world by storm, has also joined The Challenge, with a goal of losing 20 pounds. I believe that being fit is a key component to successful living. Since I have been away from the rigors of competing at a high level, my fitness is not where it should be, relates Harris. I am doing this challenge to improve my fitness level and also to inspire those with similar goals to pursue them.
United States Women's Soccer team champion Heather Mitts, a three-time gold medalist and brand new mother, sees The Challenge as a way to get back in shape post baby. Looking and feeling her best is an ageless pursuit for Suzy Chapstick Chaffee, a world class alpine ski racer and three-time world freestyle skiing champion. The 67 year-old National Ski Hall of Famer cites the desire to lose 20 pounds for her joining in The Challenge.
The oldest female competitor, luge athlete Ann Abernathy, who has competed in six International Winter Games for the U.S. Virgin Islands, has overcome cancer, broken bones and twelve knee surgeries. With the aim of losing 30-40 pounds, Abernathy has her eye on the 2016 Summer Games as an archer and joined The Challenge to help attain her goal. Comments Abernathy, It's critical for me now to lose the unwanted weight, while increasing my muscle mass once again. I train hard, but ViSalus makes it easy for me to make sure my body gets the nutrition it needs.
About ViSalus? ViSalus, Inc. is a healthy lifestyle company that is dedicated to Taking Weight Off The World.™ One person at a time. 10 lbs. at a time. Founded in 2005, ViSalus develops quality weight-management products and nutritional supplements that it markets and sells direct-to-consumers through an international sales force of independent promoters. ViSalus markets its products in North America under the ViSalus® brand and in Europe under the Vi™ brand, through the Body by Vi Challenge™. ViSalus is headquartered in Los Angeles, California and Troy, Michigan and is majority-owned by Blyth, Inc. (NYSE: BTH).
Read more here: https://www.sacbee.com/2014/02/20/6174855/back-in-the-game-5-world-class.html#storylink=cpy