ViSalus Inc., Introduces Project 10 Challenge
February 6, 2014
By Tina Williams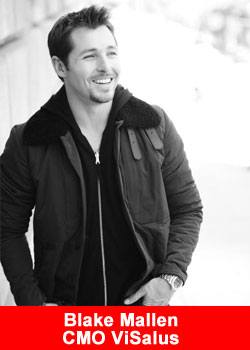 Whether looking to get slimmer and leaner or healthier and stronger, it is now more rewarding than ever with ViSalus' PROJECT 10 Challenge. Developed to recognize and motivate people to achieve their health goals, PROJECT 10™ will award $10,000 every week in 2014 to 10 people ($1,000 each) who lose 10 lbs. or add 10 lbs. of lean muscle during their Body by Vi Challenge™.

Beginning today, people can visit challenge.com to start their PROJECT 10 Challenge by choosing a category and uploading a video. Every Monday, ViSalus will reveal the 10 weekly winners, and for each 10 lbs. lost, the company will donate 30 Vi-Shape® Nutritional Shake meals to a child in need through their PROJECT 10™ Kids program. Representing an entire month of nutritious breakfast, lunch or snack options, the donation puts an at-risk or overweight child on the path to a healthier life.
This past year, millions of people achieved personal fitness victories by taking on The Challenge, so we wanted to continue to provide a platform for others to obtain their fitness and health goals, said Ryan Blair, ViSalus Co-Founder and CEO. The Challenge is not only about encouraging people to make their health a priority, but about inspiring them to make a real difference in a life by encouraging others to take on the Challenge.
A simple, fun and rewarding program, three million people have already taken on The Challenge. The success of those individuals led to more than four million meals donated through the Vi Community Challenge™ and PROJECT 10 Kids program. PROJECT 10 is just one reward of more than $100 million in free products and prizes awarded to people on the Body by Vi Challenge.
About ViSalus
ViSalus, Inc. is a healthy lifestyle company that is dedicated to Taking Weight Off The World.™ One person at a time. 10 lbs. at a time. Founded in 2005, ViSalus develops quality weight-management products and nutritional supplements that it markets and sells direct-to-consumers through an international sales force of independent promoters. ViSalus markets its products in North America under the ViSalus® brand and inEurope under the Vi™ brand, through the Body by Vi Challenge™. ViSalus is headquartered in Los Angeles, California and Troy, Michigan and is majority-owned by Blyth, Inc. (NYSE: BTH).