5 – Star Ambassadors Join Visi
February 12, 2014
By Team Business For Home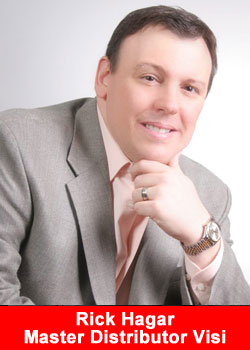 1 Star Ambassador Tim Lunsford announced today that he and 4 other Ambassadors have resigned from his former company and have joined forces to partner with Visi (VEE-SIGH) and their master distributor, Rick Hagar.
1 Star Ambassadors, Michael and Gail O'Brien, are no strangers to success. Michael has owned and operated his own real estate company for 24 years.
Michael says, "I've been blessed to have success in real estate, but in network marketing it is so much more rewarding to help people achieve their financial goals and get healthy at the same time." Michael adds, "the opportunity we have here to bring breakthrough products to the marketplace that nobody has ever seen before, is truly what sold me on Visi. It's all about timing."
1 Star Ambassador, Jen Purga is a devoted stay at home mother of two. She found great success in her first mlm experience, and is poised to help even more people achieve their own success with Visi. Jen's infectious personality is her greatest asset along with her desire to help others. Her enthusiasm for others triumphs in life has a way of bringing teams together while creating a unique inclusive dynamic that people want to be a part of. Jen says, "I felt like I was a part of the family within minutes of meeting the Corporate Team at Visi. Ryan Anderson is my new best friend! I feel like at Visi, we are truly partners building something great together."
Wayne Toppila, 1 Star Ambassador, says "Changing lives is my passion. That is what I was put on this Earth to do. I'm so excited to partner with Visi, and represent a full product line of overall wellness products. First to market Hydrolyzed Collagen Protein in a convenient delivery system, and exclusivity on the Arctic Cloudberry (Scandinavian Gold) make the Visi opportunity second to none in my book." Wayne's Visalus team was all organically built. Lead by his passion, they were the most successful customer gathering team in my previous company, with 334 people getting their product for free!
Lindsey Curry was an Ambassador. She's a full-time mom of 4 kids and owns a dance studio as well. Doing her previous company part-time around her busy schedule she was able to have great success in her first go at mlm. Lindsey says with the Visi products, "I'm down 10lbs in 25 days, worked out less, but have kept my muscle tone. The fact that I couldn't lose weight the past YEAR AND A HALF and have cried so many nights over it has me crying tears of joy now!" Lindsey's success has stemmed from an amazing personality, and an uplifting spirit that comes across in all interactions with whomever crosses her path.
Jen Purga
Lindsey Curry
Wayne Toppila
Michael & Gail O'Brien
Tim Lunsford
Tim Lunsford states, "The opportunity to work with these four like minded individuals made my decision an easy one. What I love about Visi is simply this: The timing couldn't be better. We have exclusive products that nobody else has.

The leadership team is unparalleled in the industry, and we don't have to do any home meetings so I can go to my kids' games and be with family whenever I want. I do network marketing for time freedom, and to spend time with those I care about most. Visi has made it so simple to come in and succeed right away."
To connect with these Visi Leaders go to: https://www.visileaders.com/partner/