Brett and Jessica Boyer – ViSalus New Million Dollar Earners
February 23, 2014
By Team Business For Home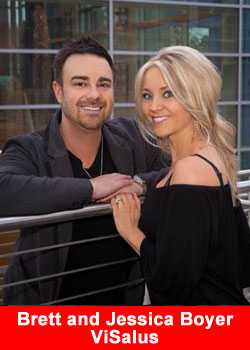 Brett and Jessica Boyer have always been entrepreneurs interested in the Network Marketing business model, yet struggled to find the right fit for their belief system and what a company should stand for.
After following Visalus since 2006 and seeing a grander message appear throughout the company, the Boyers whole -heartedly embraced Visalus and their mission in late 2010.
While Brett and Jessica were successful in their individual careers, promoting The Challenge wasn't something they thought could ever replace their full-time incomes. But with the message and the culture that has been created, Visalus has definitely shown that it truly can be that vehicle!
The beauty of Network Marketing and Visalus' business model in particular, is that you literally can build your business part-time, the investment is small, the system is in place, and the income potential is limitless! Had someone told me I had to walk away from everything we already had in business to make the money we have with Visalus, I would have never given it a look. Like most business owners in our position, I would have said I don't have time., says Brett.
The Boyers have always had a heart for helping the less fortunate and the Visalus mission of giving back truly strikes a chord with their beliefs.
Aligning ourselves with a company that truly helps others and works diligently to give back, is something we can proudly partner with., says Jessica, we are 'blessed to be a blessing' and we want to be aligned with a company that believes this as well!
With this being their first Network Marketing venture and owning other businesses still to this day, the Boyers are proof that with the right work ethic, the right business model, and the right partners, anyone can build a massive business part-time.
Brett says, In any business you do, time management is what it is all about.
Whether you work your business part-time or 100 hours a week, make sure it's quality time you're putting in, and not just time spent 'acting busy'; Lord knows that won't pay the bills!