Dale And Vanessa Munger Achieve 4 Star National Marketing Director With Nerium
February 23, 2014
By Team Business For Home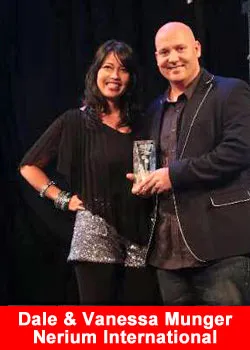 Dale and Vanessa Munger achieve 4 Star National Marketing Director with Nerium Intl.
Dale and Vanessa have earned a $100,000 Live Better Bonus plus qualified to go on an all expense paid Leadership Retreat with the top distributors in Nerium International.
Prior to Relationship Marketing Dale & Vanessa Munger were self-employed Real Estate appraisers.
They were attracted to the industry because of the time freedom, unlimited income potential and personal growth.
They have been involved with Relationship Marketing for 9 years. They decided to pursue a new venture with Nerium in September 2011 after years of dedication to a prior company.
They were not able to provide for a family of four when their income took a downward spiral so needed to find a new means of income. The need especially took a toll when they learned their eldest son had been diagnosed with Type 1 diabetes.
What attracted the Mungers to Nerium was that the results of the product were amazing & they believed in the leadership team.
"Knowing our family is taken care of and helping others motivates us." Says Dale Munger.
Dale can be reached at [email protected]yahoo.com
Nerium International is one of the fastest growing companies in the Relationship Marketing industry. In 2013 they were honored with the Bravo Award for Growth from Direct Selling News. Nerium, Intl. raised over $500,000 for Big Brothers Big Sisters in 2013 that placed them as the #1 contributors for the organization.
Nerium has been featured in several media outlets to include beauty blogs, television and publications. Nerium is passionate about empowering the Brand Partners success with personal development, state of the art business building capabilities and a unique program of free inventory called Nerium Gives Back.
Jeff Olson, CEO has an industry-wide reputation of success and leadership. He has been a top distributor in several companies, building multimillion-dollar sales teams.