Herbalife CEO Blasts Ackman
February 21, 2014
By Tina Williams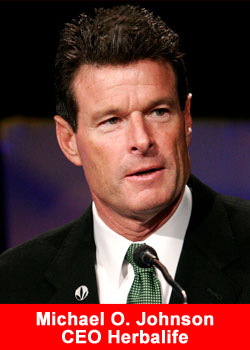 Mike Johnson is mad — and he's not going to take it anymore.
The Herbalife CEO launched into a three-minute rant against hedge-fund activist Bill Ackman on Wednesday, saying the investor has spent more than a year combing the country to find "a very small minority" of"bad actors."
Coming amid an otherwise staid quarterly conference call, Johnson railed that, "Ackman and his paid consultants in Washington, DC, have combed the country to find voices of a very small minority of current or former distributors and a past disgruntled employee or two who will paint the company's practices as bad."
Johnson — who acknowledged that the company might have some "bad actors" — launched into his tirade against the hedge fund manager who has a $1.16 billion short on Herbalife about seven minutes into the hour-long call.
Despite Ackman having his short in place for about 14 months, never before Wednesday had Johnson mentioned the hedgie by name on a call.
On the latest call, Johnson, a former Disney executive, called Ackman out by name eight times.
Herbalife shares, which had been falling before the call, began an even steeper descent, sliding 6 percent to $65.78 by the end of the call before recovering to close at $66.18, down 4 percent.
As Johnson pointed out, the Los Angeles company has continued to produce record earnings despite Ackman's short campaign against it.
On Tuesday, it reported net income in 2013 rose 11 percent to $527.5 million. Its fourth-quarter profit of $112.2 million was the 20th consecutive quarter Herbalife beat Wall Street expectations.
But while Herbalife continues to make money hand over fist, criticism of it has accelerated this year.
For example, Hispanic and other consumer activists ramped up efforts to get federal and state regulators to investigate Herbalife, while Sen. Ed Markey (D-Mass.) last month asked the Federal Trade Commission and the Securities and Exchange Commission to investigate pyramid claims he received from state residents.
Herbalife has denied it is a pyramid scheme.
Later on Wednesday's call, Herbalife CFO John DeSimone said in response to a question that he and other Herbalife executives had met with Markey's staff on Jan. 31.
The meeting was held about a week after Herbalife received a letter from the lawmaker with several detailed questions about its business practices. Herbalife answered Markey's questions, DeSimone said.
Markey's letter and the action by the Hispanic groups seemed to have infuriated Johnson. "Most unfortunately, we've seen Ackman's false and misleading statements being repeated by others," the CEO said on the call.
Johnson accused Ackman of moving away from an "easily dispelled pyramid argument" to pursue an "anecdotal victim campaign."
"People will think that bad behavior of the few are somehow representative of the whole. Of course, any company is as large as Herbalife and with as many members may have a few bad actors," he said.
Source: NY POST