Herbalife Extends Contract With U.S. Triathlete Heather Jackson
February 13, 2014
By Tina Williams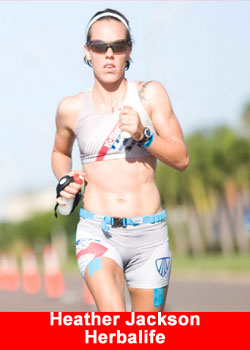 Herbalife a leading global nutrition company, announced today that it has extended its official sponsorship of triathlon champion Heather Jackson to keep her fueled and fast through 2016.
Jackson joins the ranks of elite athletes powered by Herbalife, which has a track record of supporting champion athletes and sporting teams worldwide. The Herbalife24™ products are part of a comprehensive performance line that offers a full day of nutrition support – everything from pre-workout to recovery. The Herbalife24™ line has been integral to Jackson's training and racing over the past few years.
"I am so grateful for the ongoing support from Herbalife. Their products are exactly what I need as an endurance athlete – something for before, during, and after every training session or race. The Herbalife24™ line takes the guess work out of my hydration, fueling and recovery, letting me focus more on my training," said Jackson. "And to have a sponsor that truly believes in you as an athlete and wants to do whatever they can to help you reach your athletic goals is indescribable. Herbalife's support over the past year has been an absolute game-changer to my triathlon career and I'm excited to extend this partnership for another two years.
"The focus of our Herbalife24™ sports line is to ensure athletes of all levels are getting optimal nutrition at all times," said Thomas Harms, senior vice president, worldwide marketing, Herbalife. "We strive to build strong relationships with the elite athletes we sponsor to help them improve performance and achieve success. We look forward to working with Heather as she continues to win races around the world."
Herbalife sponsors hundreds of international and national sporting events, teams and athletes reflecting the company's commitment to a healthy, active life supported by good nutrition. These sponsorships include the Los Angeles Galaxy; the Herbalife Triathlon Los Angeles; the Malibu Triathlon; international soccer star, Cristiano Ronaldo; and Pumas soccer club in Mexico.
About Herbalife Ltd.
Herbalife Ltd. (NYSE:HLF) is a global nutrition company that sells weight-management, nutrition and personal care products intended to support a healthy lifestyle. Herbalife® products are sold in more than 90 countries to and through a network of independent distributors. The company supports the Herbalife Family Foundation and its Casa Herbalife program to help bring good nutrition to children.