Jonathan Mendoza – Lucrazon Global Hits $460,000 Per Month
February 14, 2014
By Team Business For Home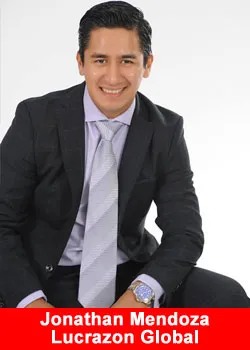 Jonathan Mendoza has hit the $460,000 per month mark with his Lucrazon Global distributor ship. Jonathan is 25 years old, from Guatemala City, Guatemala and lives in Los Angeles, California, USA
Lucrazon Global LLC is a Payment Gateway and Internet Payment Services Provider (IPSP), PCI DSS Level 1 Compliant, that offers multi-functionality websites with integrated Shopping Cart, Product Inventory, access to multiple suppliers, drop shippers, with real-time Merchant Account activation.
Alex Pitt is founder and CEO, Alex Phas no MLM history as he's never been a MLM owner. One of his previous companies was a major credit card processing company that served MLM companies but he, himself, was never an owner.
Alex Pitt is a 20 year electronic payment and merchant services industry veteran. He developed technology such as payment gateways, electronic gift card platforms and specialized reporting systems utilizing BYPASS Front End, Concord Front End and Back End, as well as FDC platforms.
Under Alex's leadership, the company's porfolio grew to $1.8 billion, providing services to Baja Fresh, McDonalds, Burger King, MonaVie and other major corporations.
In the board of director is Hector Barreto is a nationally recognized businessman who served 5 years as the Administrator for the U.S. Small Business Administration appointed by President George W. Bush and was unanimously approved by the U.S. Senate in 2001. As Administrator, Barreto directed the delivery of financial and business development programs to America's entrepreneurs from a portfolio of direct, guaranteed and disaster loans totaling more than $60 billion.
Ted Nuyten had the honor to interview Jonathan:
Jonathan, how did you got involved into the MLM Industry, who invited you and why did you accept the invite?
A really close friend of mine from Costa Rica introduced me to the mlm world. He showed me what the posibilities were of building a network marketing business. He had the results I wanted then, so he became my mentor. I was only 19 years old at the time, But because of his teachings and showing me the potential, now I live the lifestyle that a lot of people dream about having.
What was your opinion about MLM before you decided to sign up?
I did not really understand the business model back then. I thought you had to go door knocking and selling product. I had never sold anything in my life so I didn't know if I could become successful. My friend was patient and taught me the basics of the business. He also gave me a book and a magazine that made me aware of what could be accomplished.
How did you got involved in Merchant Services?
Answer: I wanted a business with a product or service that everyone was using already. When I saw this business model, I knew this was what I wanted. Everyone out there needs or uses merchant services either as a merchant or as a consumer. Its a trillion dollar industry and regardless of the economy, people are going to swipe their cards. It's also the right timing. We're doing business in the USA right now and in the next few months going international.
Why are you succesfull?
Because you become who you hang around. Always associate with people who can be an asset in your life. I associated with a great leaders like Wences Navarro, Jesse Rodriguez, Esteban Gomez, Joseph Soto, Ruben Trejo, Israel Guerrero, Rafael Moya, and many others who are better than me and make things happen.
Who have been your mentors?
I always learn from people who have the results I want. I always listen to personal development and many proven industry leaders. Specifically, I'm thankful for my mentor Diego Abarca Jimenez from Costa Rica for changing my life.
Is there something you do not like in the industry or would like to improve?
One of the things I really don't like about the industry is all the lies and hype that is around it. Leaders that make product or income claims that are false and cant be documented. That has pushed many people away with a lot of potential because they get burned out with all the lies.
Why do you think other people would/should join you?
I am a servant leader. I love to help and guide people. Plus, I believe my results speak for themselves. If you want to have something, learn from someone who has done it already. Also, we are just getting started. We have big things that are happening, but what's coming its huge!
Do you have a killer tip for an Direct Selling newbie?
Always dream big. I always dreamed I could be making six figures a month. Even when I was hardly making anything when I started in the industry. Now, that turned to be a reality.
Don't get discouraged. Always stay determined and persistent. My secret has always been to go back to the basics.