Ken Stewart – Vemma Awarded Membership in the Academy of Multi-Level Marketing
February 5, 2014
By Team Business For Home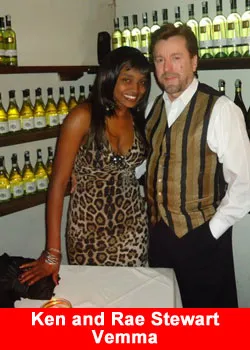 Ken Stewart, an internationally recognized expert on network marketing and well known industry leader with over 32 years of MLM experience, was recently nominated for, and awarded membership in, the prestigious Academy of Multi-Level Marketing (TAMM).
The Academy of Multi-Level Marketing (TAMM) is an MLM industry organization whose members include more than 100 of the most knowledgeable, experienced, and successful leaders and top experts in the direct selling and network marketing industries.
The board of directors, who vote on all nominations, includes such leading industry icons as Dr. Charles King (the world's #1 academic authority on network marketing and a professor at University of Illinois at Chicago who introduced the first college accredited course in the U.S. on network marketing ), well known MLM industry attorneys Kevin Grimes and Kevin Thompson, Doris Wood (Chairperson of the Multi-Level Marketing International Association), Len Clements (well known, court certified, MLM industry expert), as well as highly acclaimed, industry professionals Mel Atwood, Michelle McDonough, Bret Methany, and Lisa Wilber.
The criteria to be nominated and approved for membership in TAMM is based on such factors as overall knowledge of the industry, industry experience, trust and credibility, and a proven track record of success, with approved members receiving the TAMM insignia for online and offline use.
Nicknamed the MLM Professor and well known for his straight forward, tell it like it is approach, regarded as a top speaker and trainer, and widely considered to be one of the industry's most knowledgeable experts, especially concerning pay plans and regulatory compliance, Ken began his career in the network marketing industry back in the early 1980's, and over the past 32 years he has been a #1 or top 10 distributor in several companies, having built teams in those programs upwards of 150,000 people which have generated hundreds of millions of dollars in sales.
In addition, he helped to pioneer the binary pay plan concept to the network marketing industry back in the early 90s, was involved in creating and introducing one of the first automated, online business building and recruiting systems with a powerline concept to the industry, and has been featured in such industry publications as MoneyMaker's Monthly, now the Network Marketing Business Journal.
Today, Ken is a top leader in VEMMA, a rapidly growing, 9 year old, global health and wellness pioneer featured on the Direct Selling News list of top 100 network marketing companies in the world based on yearly sales, and which operates in more than 50 countries with an award winning line of liquid nutritional products and healthy beverages created by top doctors, among them Verve, the world's 1st healthy energy drink! Voted 2009 Product of the Year in the U.S. by Ms. Fitness magazine, and rated the #1 MLM energy drink by Businessfohome.org and a judging panel of physicians, Verve was recently featured on the TV show of America's most well known and trusted doctor, and it's the official energy drink of the Phoenix Suns, a well known U.S. pro basketball team!
When asked about how he has been able to amass such a wealth of knowledge regarding the MLM industry, and some keys to his success over the past 32 years in the network marketing industry, Ken stated, First, I read-a lot! Second, when I'm around top experts in various aspects of our industry, I ask a lot of questions, I listen, and I take a lot of notes. I'm always learning, but knowledge is only powerful if it applied! Most important, I was fortunate to learn from, be mentored and coached by, and work with the two best trainers and coaches right from the start of my career, the late Jim Rohn and Larry Thompson, two legendary industry icons who are probably responsible for creating more million dollar earners in a number of companies than any other 2 people in the history of our industry..
Ken further emphasized, In addition, I've had the opportunity to associate over the past 15 years with 2 well known MLM industry attorneys, Bob Stephan, the former Kansas state attorneys general, and Michael Diamond, Herbalife's former lead international attorney for more than 20 years. I've also been fortunate to join forces with other top multi-million dollar earners along the way like Bob Burney, Rick Thompson, Paul Morris, and Clay Jackson, my best friend and partner in various projects over the past 20 years. You can't help but learn a lot after spending a considerable amount of time around people of this caliber. All I try to do is pass along what I've learned from them as well as the knowledge that I've acquired over the past 32 years. Those that are smart listen and apply the information. Those that aren't so smart, don't.
When informed of his nomination and subsequent induction into the academy, Ken remarked, "It's truly an honor when your peers consider you to be a knowledgeable, experienced, and trusted industry leader! I'm humbled that a number of the network marketing industry's most well known names and top experts considered me worthy of membership! I'd like to thank Len Clements, a well known MLM industry leader and a court certified expert in network marketing, for nominating me, and to the impressive group of individuals on the board of directors for approving my nomination!
Similar in nature to the Academy of Motion Pictures Arts and Sciences, the organization behind the Oscars for the film industry, or the Academy of Recording Arts and Sciences, the organization behind the Grammy awards for the music industry, the Academy of Multi-Level Marketing's main mission is to recognize the "best of the best" each year in direct selling and network marketing in a number of different categories, among them Company of the Year, Product of the Year, CEO of the Year, Distributor of the Year, Start Up Company of the Year, Trainer of the Year,' Support Company of the Year, Distributor of the Year, Humanitarian of the Year, and the network marketing industry Hall of Fame. Academy members vote as well as nominate fellow industry leaders for membership in the academy.
For more information on the Academy of Multi-Level Marketing, on network marketing, or on VEMMA, you can contact Ken at [email protected], on Facebook at www.facebook.com/kenstewartmlmexpert or atwww.mlmdreamteam.freedistributorshipoffer.com