Lidia and Vas Simut – MonaVie Hit Gold Executive
February 12, 2014
By Team Business For Home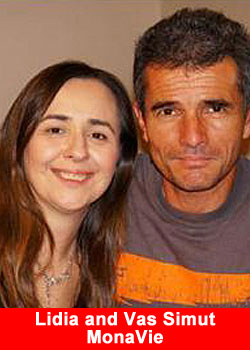 Lidia and Vas Simut from Huntington Beach, California, USA, hit the Monavie rank of Gold Executive.
Here is what they had to say on reaching this impressive milestone:
"Thank you, MonaVie, for the opportunity to participate in such a great company! Not a day goes by that we don't enjoy the benefits of MonaVie products or share them with our friends and family.
Which products are my favorite, and why:
"MonaVie Pulse has made a big difference in my life, specifically my cholesterol levels and overall cardiovascular health. MonaVie MX has also been a blessing for our joints and immune system, and MonaVie EMV helps me make it through my night shifts. Every single product has been useful to our health.
An opportunity without the risk of a traditional start-up business:
"The business opportunity is amazing. We've always had a dream of having our own company, and MonaVie has given us the ability to do just that—without the overhead or expenses of owning a traditional business. Furthermore, we've been blessed with business partners that are willing to mentor and teach us the business.
Not an overnight success, but persistence pays:
"Our road to Gold has not been an overnight success. It took persistence and hard work, but was so very worth it in the end. We spoke to many people and received a lot of "no, thank yous," but we didn't let that stop us from continuing on a journey that we believe is leading us toward 'A More Meaningful Life.'
We've continued to host meetings in our home, meet with people one-on-one, and attend as many events as we are able. In addition, we stay current with our training by following MVP and listening to the Lifelong Learning development CDs.
"With persistence we've been able to overcome obstacles and find people who share the same dream…people who are builders in the business with us. Staying in touch with our upline during this time was of utmost importance to building our teams. Finally, the friendships we have developed along the way are very special to us. Thank you, all, for your support and friendship!"