Marselinus Halim – Talk Fusion Hits Grand Blue Diamond
February 5, 2014
By Team Business For Home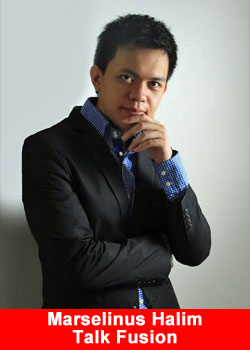 Grand Blue Diamond Marselinus "Marcel" Halim of Indonesia in not only a top Talk Fusion Leader himself, he is also part of an entire family of Talk Fusion success stories.
Marcel says:
Years ago, I started a dream book of what I wanted to accomplish in life. Now, thanks to Talk Fusion, every dream I wrote down has already come true.
I've started another dream book now and Talk Fusion will help me achieve them, too
A year and a half ago, his brother—Blue Diamond Mario Halim—told him he had found a revolutionary business. Realizing the incredible opportunity Talk Fusion offered, both brothers were soon working the business. And Marcel's entire family quickly joined them—their father, mother, and sister are all Pro Associates. In fact, Marcel credits his entire family's involvement as one of the reasons for his success.
"We talk about Talk Fusion all the time and how to improve our business," said Marcel. "My suggestion for everyone is invite your family to work with you. We love having that bond."
According to Marcel, Talk Fusion has completely changed his life, his family's, his best friend's and the lives of thousands of Indonesian people. He truly believes that Talk Fusion has the power to improve the Indonesian economy itself—that it could better the lives of an entire country!
Marcel's dream is to achieve the highest rank in Talk Fusion and help his entire downline to make their dreams come true. He and his family have already helped more than 100 Associates on their team to climb the ranks to Diamond or above. Plus, many of them have also qualified to drive a luxury automobile on Talk Fusion, as part of the company's Mercedes Madness Car Bonus program.
In a country where the average monthly income is $150 USD, Marcel just bought his first Ferrari—a stunning 2013 458 Spider Italia—which he unveiled to a crowd of cheering Associates at a Diamond Days Event in Indonesia. If he had his way, every Associate in Talk Fusion would have the chance to ride in it, to be inspired to work hard to accomplish their dreams.
"I've learned anything is possible with Talk Fusion," says Marcel. "If my brother didn't push me to work in relationship marketing, maybe right now, my life would be the same as other people. I'd have to wake up every morning, go to work and have that routine my entire life. Talk Fusion has changed everything. My advice: Work hard in Talk Fusion. It really is worth it."
Income Disclaimer:
Any earnings portrayed in any Talk Fusion marketing materials are not necessarily representative of the income, if any, that a Talk Fusion Associate can or will earn through his or her participation in the Talk Fusion Instant Pay Compensation Plan. All references to income, implied or stated, throughout the Talk Fusion Instant Pay Compensation Plan are for illustrative purposes only. These figures should not be considered as guarantees or projections of your actual earnings or profits. Talk Fusion does NOT guarantee any level of income or earnings to any Associate; any representation or guarantee of earnings would be misleading. The purchase of a Talk Fusion Product Package is completely optional and is not required for an Associate to participate in the Talk Fusion Instant Pay Compensation Plan.