MaryBeth Rosato Joins Nerium International
February 5, 2014
By Team Business For Home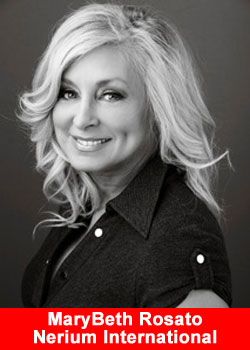 MaryBeth Rosato, top leader in BeautiControl makes a career move to Nerium International
Walking the walk successfully for 25 years as both a corporate regional vice president and top field leader in recruiting, selling and leading the #1 team year after year at the Tupperware subsidiary BeautiControl.
Mary Beth Rosato says:
I thought I was done with direct selling. I left my company to write a book and launch my own company. Nerium (nor any company was even on my radar); but I just couldn't sleep at night once I researched Nerium's numbers.
I couldn't look the other way and knew the train was pulling out and I wasn't going to let it leave without me being on it. Everything from the $100 million their first year, 1 product, 1 country, to the Direct Selling news press, to the free inventory replenishment to both their brand partners and clients.
The Nerium story kept getting better. At one time I was the face and voice on the video that came in every new kit in my former company. Never did I think I would switch and find something like what I have in Nerium.

I have never seen anything like it in 25 years. Career plan is second to none and the press keeps getting more impressive, The View, The Red Carpet, The Doctor's show, The American Country Music Awards.
Marybeth can be reached at [email protected] and www.mybestnow.arealbreakthrough.com
Nerium International is one of the fastest growing companies in the Relationship Marketing industry. In 2013 they were honored with the Bravo Award for Growth from Direct Selling News. Nerium, Intl. raised over $500,000 for Big Brothers Big Sisters in 2013 that placed them as the #1 contributors for the organization. Nerium has been featured in several media outlets to include beauty blogs, television and publications. Nerium is passionate about empowering the Brand Partners success with personal development, state of the art business building capabilities and a unique program of free inventory called Nerium Gives Back.
Jeff Olson, CEO has an industry-wide reputation of success and leadership. He has been a top distributor in several companies, building multimillion-dollar sales teams.
Jeff has been the CEO of two corporations, as well as the founder of The People's Network, a company that became one of the largest personal-development training organizations in the nation.