Origami Owl Appoints Two New Executives
February 16, 2014
By Tina Williams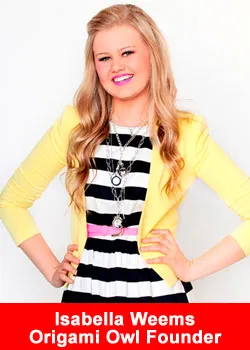 Custom jewelry company Origami Owl names two new top executives, looking to continue its remarkable growth.
Deb Bursley, who joined the company in early 2013 as Senior Vice President of Marketing, directed a series of successful initiatives, including restructuring the Marketing, Communications and Creative Departments, and filling key leadership positions. Bursley's immediate and measurable impact led to her advancement to Chief Marketing Officer. Bursley has more than 20 years of experience in leadership level positions in marketing and communications, leveraging expertise she's honed during stints at some of the most recognizable names in the direct sell industry, including Amway Global, The Longaberger Company, SUZANNE and FurChange America (a subsidiary of the direct selling giant, Tiens).
Origami Owl has also appointed Tricia Chiodo as Chief Financial Officer. Chiodo brings with her more than 20 years of experience, most recently serving as Chief Financial Officer at RSC Equipment Rental, where she led an IPO and secured more than $1 billion in Asset Based Lending and High Yield Debt. Her public and private sector experience, combined with her knowledge of operational efficiency, will ensure Origami Owl maintains smart, strategic expansion.
Both Deb and Tricia have proven invaluable through this amazing year. They've positioned us well, and will be essential to our continued success, says Robin Crossman, CEO of Origami Owl.
Experts Recognize Origami Owl for Excellence in Marketing Communications
CHANDLER, Ariz. – Origami Owl was bestowed with Gold and Platinum Awards at the 2013 MarCom Awards, an international marketing and communications competition that recognizes creative excellence. Judges in this year's competition evaluated more than 6,500 entries in 241 categories, recognizing less than 20% of all entries as Platinum Award winners.
Origami Owl's Starter Kit received the Platinum Award, the competition's highest honor, in the packaging design category. Gold Awards were given to Origami Owl's Core Values Video and Spring 2013 Take Out Menu, which competed in the Corporate Film/Video and Brochure/Catalog categories respectively.
We're quite proud of these accomplishments, says Deb Bursley, Origami Owl's Chief Marketing Officer, Origami Owl is a young company, and this competition draws entries from some very established corporations, advertising agencies and design firms.
This is the first year Origami Owl has submitted entries to the MarCom Awards. A complete list of 2013 MarCom Awards Platinum and Gold Award recipients can be found at marcomawards.com
About Origami Owl
Origami Owl® Custom Jewelry began in 2010 when 14-year-old Founder Bella Weems had a simple dream of owning a car by the time she turned sixteen. She created a line of meaningful, customizable jewelry, including its signature Living Lockets® which can be personalized with an individual's own life journey. Fast forward three years and Origami Owl, a national social selling company and Inc. Hire Power Award recipient is fulfilling its mission to be a force for good; to love, inspire and motivate people of all ages to reach their dreams and empower them to make a difference in the lives of others. Based in Chandler, Arizona Origami Owl boasts hundreds of employees headquartered in Chandler and more than 50,000 independent sales consultants, referred to as Designers, nationwide. These entrepreneurs sell the unique line at in-home parties called Jewelry Bars®.
About the MarCom Awards
The MarCom Awards is a highly regarded annual competition recognizing the creative work of marketing and communications professionals from around the world. One of the largest of its kind, the MarCom Awards receives upwards of 6,000 entries every year from corporate marketing and communication departments, advertising agencies, PR firms, design shops, production companies and freelancers. The MarCom Awards is administered and judged by the Association of Marketing and Communication Professionals (AMCP), an international organization consisting of industry professionals.
SOURCE Origami Owl
Read more here: https://www.sacbee.com/2014/02/12/6150547/origami-owl-appoints-two-top-executives.html#storylink=cpy