Talk Fusion Blue Diamonds Mario Halim And Ryani Irawan Continue To Change Lives In Indonesia
February 19, 2014
By Team Business For Home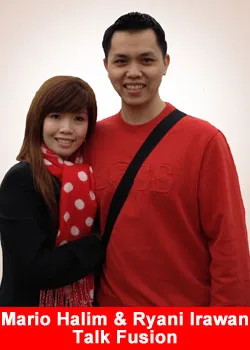 Talk Fusion Blue Diamond Associates Mario Halim and Ryani Irawan of Indonesia are a living example of the strength of teamwork. This Talk Fusion power couple is achieving their dreams by helping friends and family alike to change their own lives.
After several years of working very hard for other network marketing companies without receiving the support and compensation they felt they deserved, Mario and Ryani were introduced to Talk Fusion by a friend in the industry.
Upon looking at the company's Cutting-Edge Video Communication Products and learning about The World's First Instant Pay Compensation Plan, they could see the incredible potentialTalk Fusion held for helping them take their business and lifestyle to the next level.
After coming to America and spending time with Talk Fusion Founder & CEO Bob Reina, Mario and Ryani realized Talk Fusion could change not only their own lives, but the lives of countless others in Indonesia.
"We discovered that Bob Reina is a very friendly person, with a strong sense of social concern," says Ryani Irawan. "That reinforced our trust in and commitment to the company."
Just over a year after joining Talk Fusion, Mario and Ryani have achieved the lofty rank of Blue Diamond, and have helped more than 35 of the Associates in their team to climb the ranks to Diamond or above. What's more, they have shared the power of the Talk Fusion Opportunity with several members of their family, including Mario's parents, sister and brother. The success their family has achieved is among the most rewarding elements of Mario and Ryani's Talk Fusion business.
"We can take vacations together, pay for our children's college, even buy vehicles for our other relatives," says Mario. "We want to make that a reality for everyone. With good cooperation and a solid team, we can help 500 people go Diamond in Talk Fusion before September of this year."
"The best thing for us is helping members of our family and our business achieve a better life. It couldn't be done without teamwork."
Income Disclaimer:
Any earnings portrayed in any Talk Fusion marketing materials are not necessarily representative of the income, if any, that a Talk Fusion Associate can or will earn through his or her participation in the Talk Fusion Instant Pay Compensation Plan. All references to income, implied or stated, throughout the Talk Fusion Instant Pay Compensation Plan are for illustrative purposes only. These figures should not be considered as guarantees or projections of your actual earnings or profits. Talk Fusion does NOT guarantee any level of income or earnings to any Associate; any representation or guarantee of earnings would be misleading. The purchase of a Talk Fusion Product Package is completely optional and is not required for an Associate to participate in the Talk Fusion Instant Pay Compensation Plan.