Talk Fusion Releases Premier 3-in-1 Video Product Talk Fusion CONNECT To Worldwide Acclaim
February 18, 2014
By Tina Williams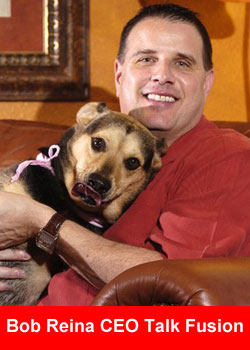 On Tuesday, February 18, Florida-based video communication and relationship marketing company Talk Fusion released its much-awaited product Talk Fusion CONNECT to the world.
Talk Fusion Founder & CEO Bob Reina and VP of Training & Development Allison Roberts joined countless Independent Associates and guests who logged in for an exclusive Live Broadcast to witness the official product release announcement and several more surprise developments from the company.
Talk Fusion CONNECT is a 3-in-1 Live Broadcasting, Video Conferencing and Desktop Share product featuring the latest in WebRTC (real-time communications) protocols. These protocols, which some are calling "the biggest invention in the history of the internet", allow anyone, anywhere to meet, chat and share with others online using just a web browser and camera.
While products like Skype and Apple's FaceTime limit your communication to only those with the same programs, Talk Fusion CONNECT offers restriction-free communication with anyone on any internet-ready device with no downloads or plugins required. Priced at a fraction of the cost of other comparable products, CONNECT is expected to rapidly become a global leader in the burgeoning video communication industry.
Talk Fusion CONNECT is now available to consumers worldwide as well as existing Talk Fusion Independent Associates using the company's Executive, Elite and Pro Pak product packages.
Along with the release of CONNECT, Talk Fusion Associates on Tuesday's Live Broadcast were also treated to a number of surprise announcements. The first was the return of the company's Instant Dash for the Pro Pak Cash and debut of the All-Pack Dash for Cash promotion, both of which reward Associates with instant cash bonuses for sharing their products worldwide. Reina and Roberts also announced the return of the Starter Package, which is Talk Fusion's most economical product offering and features the company's industry-leading Video Email product.
In celebration of the CONNECT launch, Talk Fusion Independent Associates were also treated to the news that qualifying for the company's Dream Getaway trip incentive to Hawaii will now be easier to accomplish than ever, but only for a limited time. Between February 18, 2014 and May 17, 2014, Independent Associates who initially reach the rank of Diamond in the Talk Fusion hierarchy of success—and meet other requirements during the qualification period—will be rewarded with a 5-day, 4-night luxury vacation to Maui, Hawaii, paid for by Talk Fusion. The new qualifications reflect Founder & CEO Bob Reina's vision of shared success for his company.
"It's been years in the making and we couldn't be more excited for individuals and businesses to experience this revolutionary new product," says Mr. Reina. "Our Independent Associates will make CONNECT the immense success we always knew it would be and we're incredibly proud to reward their hard work with new promotions and incentives like these."
ABOUT TALK FUSION
Talk Fusion is a rapidly growing global company dedicated to changing lives through providing cutting-edge personal and business Video Communication Products and a lucrative business opportunity. Talk Fusion's innovative products are marketed person-to-person by Independent Associates in more than 140 countries.
The company was founded in 2007 by CEO Bob Reina and introduced the world's first Instant Pay Compensation Plan. Talk Fusion adheres to the highest ethical business practices and is a member of the prestigious Direct Selling Association (DSA). Reina firmly believes that "with great success comes greater responsibility." To that end, his commitment to giving back has benefited numerous charitable organizations.
Income Disclaimer:
Any earnings portrayed in any Talk Fusion marketing materials are not necessarily representative of the income, if any, that a Talk Fusion Associate can or will earn through his or her participation in the Talk Fusion Instant Pay Compensation Plan. All references to income, implied or stated, throughout the Talk Fusion Instant Pay Compensation Plan are for illustrative purposes only. These figures should not be considered as guarantees or projections of your actual earnings or profits. Talk Fusion does NOT guarantee any level of income or earnings to any Associate; any representation or guarantee of earnings would be misleading. The purchase of a Talk Fusion Product Package is completely optional and is not required for an Associate to participate in the Talk Fusion Instant Pay Compensation Plan.