C. Anthony Harris Is Visalus' Newest 2 Star Ambassador After Only 45 Days
March 14, 2014
By Tina Williams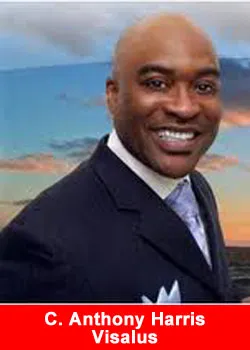 Industry legend C. Anthony Harris has achieved the rank of ViSalus 2-Star Ambassador after only 45 days*. Joining ViSalus in January of 2014, this mentor and motivator started the year by accepting the PROJECT 10™ Challenge. Leading by example with passion and purpose, Harris attributes his success to teamwork and his commitment to continuously challenging others.
Powerfully impacting the industry to become one of the top earners in network marketing for the past two decades, prior to joining ViSalus, Harris grew his team to more than 200,000 people. This enabled 15 team members to achieve million-dollar annual revenues and thousands of others to earn a solid full-time income*. As an influential industry leader, Harris is known for his ability to inspire and mentor those who want to align their actions with their mission. Through his leadership style, Harris imparts to those eager to follow in his footsteps, Stay the course, believe in the product and copy the habits of other successful people.
Harris' goal in business is simple – to have a positive impact on society by helping to support, train and mentor individuals professionally and financially. His belief that everyone has an obligation to share goals and accomplishments with others and to foster their drive for a satisfying life, has contributed to his success. I've believed in paying it forward since my first mentor saw potential in me and took time to invest in my life and career, said Harris. You run with me for 90 days and you will see your life transform!
Harris' success does not surprise ViSalus Co-Founders Nick Sarnicola and Blake Mallen, with whom Harris has shared a close friendship for 17 years. States Sarnicola, When you are a leader for more than 20 years, people follow you. C epitomizes the passion and leadership that we strive for at ViSalus.
* Results not typical. Achievement in rank and income depends upon many factors such as hard work, determination, financial resources and social contacts.
About ViSalus
ViSalus, Inc. is a healthy lifestyle company that is dedicated to Taking Weight Off the World.™One person at a time. 10 lbs. at a time. Founded in 2005, ViSalus develops high-quality weight-management products and nutritional supplements that it markets and sells direct-to-consumers through an international sales force of independent promoters. ViSalus markets its products in North America under the ViSalus® brand and in Europe under the Vi™ brand, through the Body by Vi Challenge™. ViSalus is headquartered in Los Angeles, California and Troy, Michigan and is majority-owned by Blyth, Inc. (BTH).
Source: Visalus