Presidential Directors Steve & Nicole Puchalski Join Mommy's Club
March 14, 2014
By Tina Williams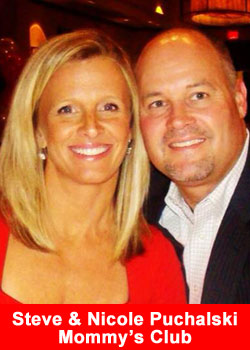 Steve & Nicole Puchalski, network marketing veterans and former Presidential and Platinum Directors, joined former black diamond power couples Mick and Vick Karshner, Mike and Sahi Hernandez and other field marketing leaders at Mommy's Club, a Healthy Home Company.
Mommy's Club is one of the first large-scale social entrepreneurship businesses in the world. It uses a hybrid wholesale buying club and direct marketing approach to sell its brand of products made from ToxicFree, EcoCert, and organic ingredients as a means to fulfill its mission of making the home a healthier place to raise a family.
The hundreds of direct marketing leaders that attended Mommy's Club first major event, the Founder's Invitational, is a testament to the power of the social entrepreneurship model when coupled with a dedication to education. It was that determination and mission to make the home a healthier place that resonated with Steve and Nicole (both of who are passionate about helping people lead healthy lifestyles) that helped them make the decision to join the Mommy's Club team.
"After spending four years in the weight loss industry, Nicole and I felt it was time to move in a different direction by matching our dedication to our children with our home business. We were blown away to learn of all of the toxic ingredients found in many of the household products we thought were safe, including the kids shampoo and lotions," said Steve.
"It just made sense that we swap many of those products for safe alternatives. We are excited to be pioneers of Mommy's Club, and are looking forward to helping many families while on the journey to making Mommy's Club a household name."
"Having Steve and Nicole join our field leadership team has been wonderful. Between Steve's experience as a financial services professional and Nicole's background as a Certified Holistic Health & Wellness Coach, we know that they're aligned with our core values. We're thrilled to have them join our team of industry leaders, which includes Mick and Vick Karshner, Angela Hoff, Mike and Sahi Hernandez, Steve and Debbie Longard and countless others. We can't wait to help them grow their business," said Bill Glynn, CEO at Mommy's Club, a Healthy Home Company.
About Mommy's Club
Mommy's Club, a Healthy Home Company, is a membership-based buying club that offers personal care products for children and adults, household and body care products made with all-natural, EcoCert, and ToxicFree ingredients.
Mommy's Club is also a business opportunity for those who use and enjoy our products and want to share them with friends and family. We serve as a trusted resource for information on ToxicFree living and serve a community of like-minded individuals who want to make the home a healthier place to raise a family.