Icahn Gains Three Seats On The Herbalife Board
March 29, 2014
By Tina Williams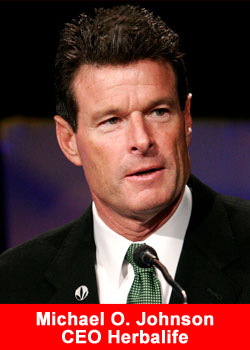 Shares of Herbalife have become a playground for traders speculating on the fate of the supplements company, and the latest momentum seemed to favor its bulls.
Herbalife said on Monday that it agreed to give its biggest shareholder Carl C. Icahn three additional seats on the board, news that sent its shares up 6.7 percent to close at $52.86. Mr. Icahn, one of the company's most outspoken supporters, who already had a 16.8 percent stake in the company and two board seats, requested the additional representation last week.
Shares have wildly fluctuated in recent months as the billionaire hedge fund manager William A. Ackman, has kept up the public pressure, betting that the company's stock will fall. Nearly two weeks ago, the Federal Trade Commission said it had opened an official inquiry into Herbalife and its business practices, a move that sent its shares falling more than 7 percent that day.
The latest development is likely to escalate a yearlong acrimonious battle between Mr. Icahn and Mr. Ackman, who has made a $1 billion wager that Herbalife is a pyramid scheme and will be shut down by federal regulators.
Mr. Icahn's bigger role on the board comes at a time when the company could most use an ally. He retains the right to increase his stake up to 25 percent.
"This is a very positive agreement and we appreciate the Icahn parties' shared confidence in Herbalife's continued success," Michael O. Johnson, chairman and chief executive of Herbalife, said in a filing with the Securities and Exchange Commission.
["In the long run I think Herbalife is very undervalued," the investor Carl C. Icahn told CNBC.] Brendan McDermid/Reuters"In the long run I think Herbalife is very undervalued," the investor Carl C. Icahn told CNBC.
Herbalife will nominate Hunter C. Gary and Jesse A. Lynn, two employees of Icahn Enterprises; and James L. Nelson, an independent director of Icahn Enterprises. Mr. Icahn currently has two representatives on Herbalife's board, Jonathan Christodoro and Keith Cozza.
Mr. Gary and Mr. Lynn would replace Michael Levitt and Carole Black, two current board members whose terms expire this year. Mr. Nelson would replace Colombe M. Nicholas, who resigned from the board on March 22. The company will take a vote at its annual meeting in Los Angeles at the end of April.
"Herbalife felt that it would help and give credibility, and we sort of felt the same way," Mr. Icahn said in a television interview with CNBC on Monday.
Mr. Icahn also gave no indication that he would back down in his battle with Mr. Ackman, who owns the $12 billion hedge fund Pershing Square Capital Management. "In the long run I think Herbalife is very undervalued," Mr. Icahn told CNBC, adding that its shares would be worth more "if it weren't for Ackman in there driving everybody crazy."
Mr. Icahn also defended the company's business model.
Herbalife sells its diet shakes and other nutritional products through a network of independent distributors, many of whom are lower-income Latino or African-Americans in the United States.
Mr. Ackman contends that the company lures in distributors with a promise of riches to be made selling Herbalife but most end up instead with piles of debt. He has vowed to take his campaign against the company "to the end of the earth."
His firm's bet, called a short position, will be profitable only if the stock price drops lower than the price at which Mr. Ackman entered into his position. Short sellers sell borrowed stock, in anticipation that they can buy it back at a cheaper price.
Over the last year, Mr. Ackman called on regulators to investigate the company and lobbied members of Congress to pressure state and federal regulators. He also paid consultants and lobbyists to help organize protests, letter-writing campaigns and news conferences, later pointing to these events as evidence that the walls were closing in on Herbalife.
Even as he did this, Herbalife shares continued on an upward trajectory, gaining more than 100 percent over 2013.
All that changed on March 12, when an F.T.C. investigation into Herbalife was made public. The shares dropped to $60.57 a share on that day. On Monday, they were trading just $4 above the average price at which Mr. Ackman first began building his short position in May 2012, according to someone with direct knowledge of Mr. Ackman's trading.
A spokesman for Pershing Square declined to comment.
Source: NY POST