John And Nadya Melton – Vemma Top Earner Interview
March 20, 2014
By Team Business For Home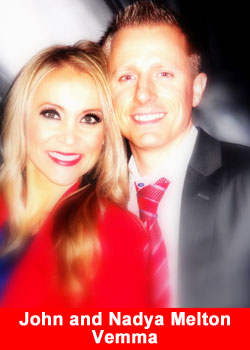 John and Nadya Melton are 12-year veterans in the network marketing industry, leaders and sought-after-trainers.
They reside in Baltimore, MD and build their Vemma business while raising their 2 children.
They have developed sales organizations of thousands of affiliates and tens of thousands customers. John and Nadya have educated and empowered thousands of people to achieve success in their home-based business.
Today they own and operate multiple businesses and love training and equipping people to higher success in life.
They came over to Vemma eight months ago and achieved the rank of Ambassador in under 90 days.
Now they have over 200 people a week joining their Vemma business all over the world.
Ted Nuyten had the honor to interview the couple:
John and Nadya, what is your secret to success?
Time management, consistency, building long-lasting relationships, mastering Social Media, focusing on our people's paycheck, doing income-producing activities every day.
Nadya attributes much of her success to her early involvement with personal development. "I moved here from Russia when I was 16," she explains, "so I'd been in the US just a few years when I got into network marketing and started learning about personal growth. Being out of your comfort zone is where success happens."
How were you first introduced to Network Marketing?
"Nadya was 19 when she was introduced to the network marketing industry and I was 20," says John. My good friend Mike picked me up and brought me to a "briefing." I got started that night. I thought to myself, "Who wouldn't want a safe cleaning product you can drink, a $500 water filter and a $3 lip balm?"
I still laugh about that today. The best part about that first company was meeting Nadya. We competed for a couple of years until the company unfortunately went out of business, like most start-ups usually do. Thanks to great mentors, we started working on personal development and learned how to market, train and recruit leaders, develop a strong work ethic and no-excuses attitude.
https://www.youtube.com/watch?v=N0hYwLEJedk
Why Vemma?
"After years of doing home meetings every evening, we were exhausted!" says Nadya. "We were never home at night, which is tough when you have kids. We started studying Internet and Social Media Marketing and realized there was a better way to run a true 'home-based' business."
We were consumers of the Vemma Products for many years, but didn't see the opportunity to build the business until quite recently. John came across an interview with BK Boreyko and Anthony Powell on your website (businessforhome.org) and was really impressed. We didn't know that Vemma was exploding with the YPR movement, Chris Powell, and new products. We loved the fact that Anthony Powell had an online system to build. The more research we did, the more excited we got.
One of the things that appealed to us was how Vemma embraces technology and enables people to build businesses online or offline, using all the resources available. "It's amazing what Home Office has done with the branding," says Nadya, a marketing guru who has a degree in business and the skill to build a website in about an hour. "The cool branding alone is such a boost for every affiliate. It is so exciting to have a product that's so fresh and hip. What I teach these days in marketing is good graphics and simplicity, and that's just what they've done with Vemma."
Vemma Team Partners
| | | | |
| --- | --- | --- | --- |
| | | | |
| Amy & Frank Frazer | Kim & Ralph Kahler | Rob & Jana Montiero | Michael York |
| | | | |
| Ryan York | Justin Poletti | Brett Grossman | Derren de Jong |
| | | | |
| Sander Pols | Bill & Michelle Banhan | Tony Mazzola | Bobby Coleman |
| | | | |
| Jon & Leslie Foster | Javon Ottay | Shokoufeh Safavi | Gene Kleiser & Debbie White |
"We're home almost every day now and have so much more time together as a family. We still do meetings — there's a real value in face to face — but so much of our Vemma business can be done online." John agrees, noting that a lot of their business growth has come from the international market, where most of the training is done through phone calls or the online resources they offer to their team. "Just today I've talked with people in the UK, the Netherlands and Australia. With our websites, webinars, blogs and video tutorials we can share what we've learned in 12 years of network marketing in such an approachable format, with anyone, anywhere in the world."
John and Nadya have great things to say about every aspect of the Vemma business; from the binary compensation plan, to the products, and the powerful branding by the Home Office team. "We love Vemma!",says Nadya. "The number one thing in this business is to find a product that agrees with your spirit — something you can get fired up about, something you have an emotional attachment to. That's what we've found with Vemma. At the end of the day, if you're getting results, it's natural to want to share it."
How do you build your business?
We build our business online and offline leveraging Social Media, capture pages, auto-responders, home events, 3 way calls, conference calls, webinars, etc. We like cold market and warm market, but warm market is the best when you have momentum and excited people. However, we love having cold market options for the affiliate who doesn't have a big warm market, lost momentum or doesn't have much influence.
How do you build it together as a couple?
We each have aspects of the business that we excel at. Nadya has learned how to build websites, make video tutorials and has become an expert in marketing using social media. I excelled at recruiting, building relationships with people and training the team. One of the best parts about building the business as a couple is being able to travel the world together empowering others to succeed in their Vemma business.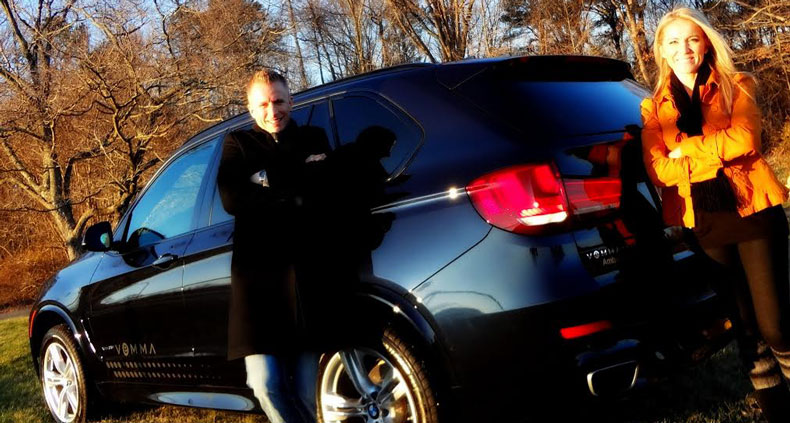 How important is Social Media to your business?
Everyone is on Social Media these days. It is the fastest growing marketing sector getting people's attention. Because of Social Media, we've been able to build a global business within a matter of months. We love how hip Vemma is on Social Media. BK Boreyko sets quite an example for all of us to follow as he is the most hands on CEO with his Social Media involvement.
What are your plans for your future?
Travel the world sharing the Vemma story helping launch different markets.
"People say you can succeed off individual effort alone with any opportunity, but I don't believe it," says John, who's affectionately termed the "monster recruiter" by his wife Nadya. "It's also about finding the right company with the right timing and a simple system. Our last company had a system but it was far from simple. In my opinion, the system and timing are ideal to build a thriving Vemma business. We are excited about being a part of helping Vemma get to the 1 billion mark and beyond."
How do you duplicate other leaders?
We have been blessed with an amazing organization and we try to always lead by example and have a mindset of a captain vs a manager. When we identify someone serious with leadership qualities, we help them get documented and we spend a lot of time helping, coaching and working in their organization. That way they can earn and learn at the same time.
Was a personal growth plan an important part of your success?
Yes, we both believe in constant and never ending improvement. Who we are today is the direct result of personal growth over the last 12 years. Today we spend extra time grooming our skill set in the area of Branding and Marketing.
Because of personal growth and this amazing industry, Nadya and I can be stay at home parents, travel the world, have multiple streams of income and are truly living the dream!
Do you have advice for a "Newbie" in the MLM industry?
Get started today on personal development and growth

Invest in your skill set

Find a mentor and talk to him or her daily if possible

Be excited! The number one thing in this business is to find a product that agrees with your spirit — something you can get fired up about, something you have an emotional attachment to. If you're getting results, it's natural to want to share it.
To contact John and Nadya:
John: www.RealJohnMelton.com
Nadya: www.NadyaMelton.com