Leslie Brown Strengthens Her Family Ties With Talk Fusion
March 12, 2014
By Team Business For Home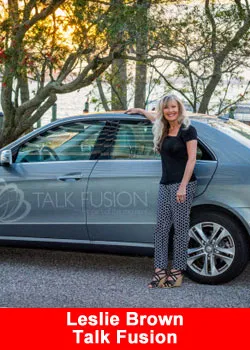 Leslie Brown of Sarasota, Florida, USA has always put family first. With six children and 11 grandchildren, Leslie and her husband Jim take immense pride in the large family they've raised over the years.
The future was bright when they moved to Florida to retire just a few years ago.
Leslie and Jim were going to kick back after 30 years in the relationship marketing industry with an investment that would keep them secure for the rest of their lives.
Then, due to circumstance out of their control, that investment disappeared overnight. The Brown's future was suddenly uncertain.
"At this age, when you think you're going to coast for a while, it was debilitating," Leslie says. "You think you're never going to find a way to make a living again."
Shortly thereafter, a friend she hadn't talked to in over two years called Leslie raving about a company named Talk Fusion. As an industry veteran, Leslie was skeptical. She had seen her share of relationship marketing gimmicks over the years, but took an interest in this new this company.
After watching her first Business Opportunity Presentation, Leslie instantly recognized the potential Talk Fusion had for herself and her family.
"Talk Fusion was a dream come true. We wished we'd found it 30 years ago when we started in this industry," Leslie says.

"In the companies we'd been with before, we had to chip in, guide, and provide our own marketing materials, but it's all done here better than any mainstream company we've ever been involved with."
Leslie immediately committed herself to sharing the Talk Fusion Opportunity within her community and beyond. She took full advantage of the company's simple system and wealth of online training materials. Driven by the chance for a better future, Leslie's business quickly expanded to other countries, helping her achieve the distinguished rank of Blue Diamond and reclaim the financial freedom she deserved in just a few short years.
What Leslie enjoys most is the lifestyle Talk Fusion affords, allowing her to work from home, drive a Mercedes-Benz courtesy of the company, enjoy 2 Dream Getaways to Hawaii per year and spend more time with the family she cherishes.
"I recently lost my mother," Leslie recounts. "Talk Fusion gave me that chance, literally, for about five months to be with my mother and with my father in her last days. For me, that's it."
Today, she leads a large international team of Talk Fusion Associates, helping them to achieve their dreams and give back to the world just like she has.
"I hope everyone can catch a glimpse of what this business can provide for them—hope, lifestyle, and the ability to change families."
Any earnings portrayed in any Talk Fusion marketing materials are not necessarily representative of the income, if any, that a Talk Fusion Associate can or will earn through his or her participation in the Talk Fusion Compensation Plan. All references to income, implied or stated, throughout the Talk Fusion Compensation Plan are for illustrative purposes only.
These figures should not be considered as guarantees or projections of your actual earnings or profits. Talk Fusion does NOT guarantee any level of income or earnings to any Associate; any representation or guarantee of earnings would be misleading.