Nerium International Builds Executive Team And Expands Internationally
March 27, 2014
By Tina Williams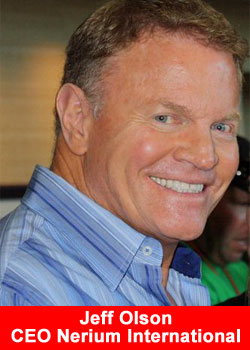 Creator of the best-selling NeriumAD line of age-defying products, Nerium International has big plans for expansion. With the addition of new Co-Chief Executive Officer Jeff Dahl and President of International Roy Truett , Nerium is introducing a new breakthrough product line and growing globally starting in Canada this spring.
We have wanted to expand internationally since inception, and with the help of our new executive officers we are excited to start achieving this goal, says Founder and Chief Executive Officer Jeff Olson .
Since its August 2011 launch, Nerium has reached record-breaking sales and earned industry accolades while building millions of consumer fans along the way.
From our software development to a global product line that produces high-impact results, we have invested time and money in preparing our business internationally. This will ultimately be our greatest strength moving forward in a global market, Olson says.
With a focus on science and clinically proven products that produce real results, the Nerium International Product Development team has been working on building cutting-edge, anti-aging products that meet a wide array of international regulatory requirements over the last two years. As a result, a new line was developed and will be unveiled in the provinces of Ontario and British Columbia with other provinces to follow in the near future.
After setting numerous records in the US, we are excited to introduce our new product line in Canada , says Nerium Co-Founder and President Dennis Windsor . It's extremely effective, and it's based on advanced science. We know consumers will love this new international product line.
Sharing Nerium's vision with the world will take leadership that reflects the company's family-based culture, so Nerium has chosen two experienced innovators from the relationship marketing industry to take the company's rhythm international.
We are honored to welcome Jeffrey Dahl as Co-Chief Executive Officer and Roy Truett as President of International to the Nerium family, Olson says of the new leadership. Both are world-class people with tremendous international business experience. We're thrilled to welcome them as part of the Nerium family.
Jeffrey Dahl , former President of Amway Latin America , joins the Nerium family as Olson's Co-Chief Executive Officer. As President of Amway Latin America , the largest direct selling company in the world, Dahl oversaw all business operations in 12 countries in Central and South America . Prior to that role, Dahl served as Vice President of Global Brands at Amway, where he was responsible for several brands and the company's global Consumer Oriented Initiative. Dahl was instrumental in building a foundation of consumer marketing knowledge and focus for the global organization. Dahl has also had several leadership roles at Coca-Cola and Lufthansa, two of the world's most recognized brands.
International growth means more opportunity for all, says Dahl, who will focus on global strategy and providing resources and support to the Nerium team. Launching the Canadian market is a huge opportunity for both U.S. and Canadian Brand Partners to expand their businesses quickly because they can work both sides of the border. That is a big positive! As Nerium grows, it opens doors for Brand Partners through their existing personal networks.
Also joining the Nerium team on the operational side as President of International is Roy Truett , an energetic and accomplished leader in strategic and tactical planning, for overall company operations and process improvement. Truett brings over a decade of direct sales experience as the Chief Operating Officer at USANA Health Sciences, where he developed a world-class IT department, improved operational processes and assisted in their international expansion.
It is a privilege to be part of an organization that is growing at an unprecedented pace and already setting records in the United States . Nerium's commitment and dedication to expand around the globe in a world-class fashion is a tremendous opportunity for both the Brand Partners and customers, Truett says. I'm pleased to be part of this organization.