Nu Skin Suspends Promotional Meetings in China Amid Probe
March 22, 2014
By Tina Williams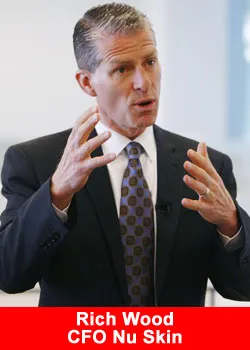 Nu Skin, the skin-care product seller that's under investigation by China's government, is suspending some promotional meetings and won't accept new applications for sales jobs in the Asian nation.
Product refund and return policies will be extended in China in response to the scrutiny, too, the Provo, Utah-based company said yesterday in a filing with the U.S. Securities and Exchange Commission.
Chief Executive Officer M. Truman Hunt has been defending his company after the Chinese government said it would investigate a report in the People's Daily newspaper that Nu Skin is a "suspected illegal pyramid scheme." Nu Skin also is conducting an internal review of its operations there. Lower-than-expected revenue and costs from the probes will put pressure on profitability, the company said earlier this month.
Nu Skin rose 2.9 percent to close at $76.69 in New York yesterday. The shares had dropped 45 percent this year, compared with a 1.3 percent gain for the Standard & Poor's 500 Index.
China's government announced a probe into Nu Skin's operations on the mainland, following a report in the state-owned People's Daily newspaper in January that the maker of skin-care and nutritional products brainwashes trainees and sells more products than allowed.
Earlier this month, Nu Skin forecast first-quarter profit and sales that trailed analysts' estimates because of the Chinese investigation. Profit per share will be 90 cents to 94 cents on revenue of $650 million to $670 million, the company said. Analysts projected profit of $1.20 a share on sales of $732.3 million, according to the averages of estimates compiled by Bloomberg.
China Plans New Rules
Hunt said in an interview following the report that Nu Skin is "absolutely not a pyramid scheme." Nu Skin's more than 40,000-strong salesforce sells weight-loss kits and skin cleansers in more than half the country's provinces and municipalities, according to Hunt.
The market size of China's direct-selling industry has more than doubled since 2008 to 88.9 yuan ($14.3 billion) in 2013, according to data from market researcher Euromonitor. Amway, an Ada, Michigan-based seller of vitamins, cosmetics and air purifiers, was the biggest in the market with a 30 percent share. Nu Skin was fourth, with 6.6 percent share of the market.
China's State Administration for Industry and Commerce plans to tighten rules on how direct-sales companies train sales staff and introduce products, said two people familiar with the matter on Feb. 18.
The department will also check the operations of direct selling companies between April and June for wrongdoings including exaggerated and false advertising, the official Xinhua News Agency reported on Feb. 26.