Primerica Among Best Places To Work In Georgia
March 28, 2014
By Tina Williams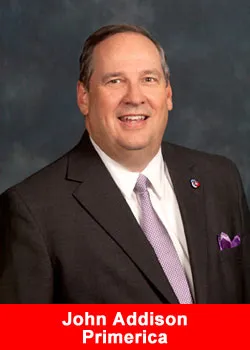 Primerica was recently recognized by the Atlanta Journal-Constitution as one of the best workplaces in Georgia. Primerica was the highest ranking public company headquartered in Georgia, and it ranked 18(th) in the large companies category (500+ employees in Georgia) when compared with private companies, non-profit organizations, and local offices of public companies based out-of-state.
The poll was conducted by the Atlanta Journal-Constitution and its partner, Workplace Dynamics. More than 1,200 companies were nominated or asked to participate and more than 50,000 metro Atlanta employees from 211 area companies participated in the survey.
Primerica President Glenn Williams remarked, Primerica is a top Georgia workplace because of the people who make up the Primerica team. We enjoy a positive environment supporting our 95,000 licensed representatives in our mission to create financially independent families. The dedication and caring attitudes of our employees is why Primerica is a great place to work.
We have a very unique culture, said Primerica Chief Human Resources Officer Karen Fine. The average tenure of our employees is 14 years, with 62% of employees serving 10 or more years with the company. I believe that says everything about Primerica and the kind of work environment we have.
Primerica was founded in 1977 and became a public company in April 2010. Since its founding, Primerica has called metro Atlanta home and nearly 1,600 people work at their Duluth headquarters.
About Primerica
Primerica, Inc., headquartered in Duluth, GA, is a leading distributor of financial products to middle income households in North America. Primerica representatives educate their Main Street clients about how to better prepare for a more secure financial future by assessing their needs and providing appropriate solutions through term life insurance, which we underwrite, and mutual funds, annuities and other financial products, which we distribute primarily on behalf of third parties. In addition, Primerica provides an entrepreneurial full or part-time business opportunity for individuals seeking to earn income by distributing the company's financial products. We insured more than 4 million lives and had over 2 million client investment accounts as of December 31, 2013. Primerica stock is included in the S&P MidCap 400 and the Russell 2000 stock indices and is traded on The New York Stock Exchange under the symbol PRI.