Scentsy Celebrates 10 Years And New Products
March 5, 2014
By Tina Williams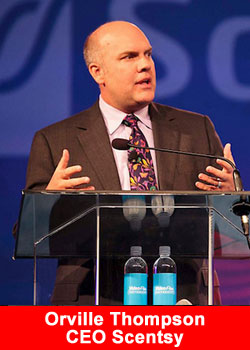 Scentsy Fragrance, an international party-plan company and leader in home fragrance, released its Spring/Summer 2014 Catalog featuring the new Shadow Collection of warmers, 13 new Spring/Summer fragrances, and limited-edition Scentsy Buddies.
This year marks our tenth year in business and we can't imagine a better way to celebrate a successful decade than by giving our Consultants and customers beautiful new warmers and fragrances, said Heidi Thompson, president and co-owner of Scentsy, Inc. with her husband Orville Thompson. Our Spring/Summer 2014 Catalog is one of our best — it features truly innovative warmer designs, great new fragrances for spring, and two adorable Buddies, Cluck the Chicken and Clover the Cow.
Scentsy customers can now choose from the new Shadow Collection, which includes the Frosted Shade and the Linen Shade paired with artfully crafted Shadow Inserts which slip behind the shades and cast beautiful shapes and shadows. Customers who love elegant and intricate details will fall for Scentsy's new Lace Warmer, which is hand-wrapped in genuine lace and dipped in liquid clay before being kiln-fired, where the lace is burned away leaving its exquisite detail imprinted on the porcelain.
The catalog also features the newest trend in home fragrance, the 2014 ScenTrend Scent of the Year, Simply Nashi Pear, which combines the sweet taste of a pear with the crispness of an apple for a beautiful balance of juicy sweetness.
In addition, Scentsy's Spring/Summer 2014 Charitable Cause Product is a Scentsy Buddy. Roosevelt the Rabbit is a soft, floppy-eared rabbit just in time for Easter. Scentsy will donate $6.50 from every Roosevelt the Rabbit purchase ($30) to the March of Dimes imbornto campaign, a movement dedicated to continued research and education responsible for helping more mothers have healthy, full-term pregnancies.
About Scentsy Fragrance
Scentsy Fragrance is a direct sales company and international leader in home and personal fragrance products. The simplicity and value of its flagship product, scented, wickless candles heated in decorative ceramic warmers, provides a better alternative to burning wicked candles. Scentsy Fragrance also offers the Scentsy Buddy, plush animals with a fragrant Scent Pak inside, and Layers by Scentsy, a personalized fragrance experience comprised of body and laundry care products. Scentsy Fragrance products are sold through a network of Independent Consultants running home-based businesses throughout North America, Europe, and Australia.