Talk Fusion Diamond Elite Walter Suarez Gives Back In Peru And Beyond
March 19, 2014
By Team Business For Home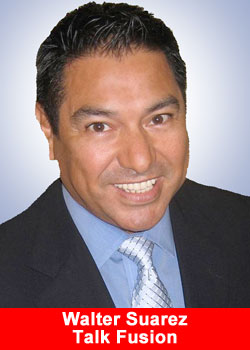 Walter Suarez from Miami, Florida, USA is no stranger to the business world.
As a banker at Chase Manhattan for over 10 years, he once knew all-too-well the impact an uncertain financial future could have on individuals and families across the world.
"As a member of a large family, I have a lot of people with day-to-day challenges and a lack of real opportunities," says Walter.
"Talk Fusion enables me to help many family members and friends in better ways. In addition, we can also help charities and people from my native Peru."
Before joining Talk Fusion, Walter often worried about how he would continue to provide for those he loved as his life and career matured. He made a decent living, but like many, he was hardly free from the limitations of his pay or the 40+ hours he had to spend at the office every week.
That was until one day when a friend of Walter's called him ecstatic about a new opportunity she'd just discovered. That friend was Talk Fusion Grand Blue Diamond Nancy Burling. Walter soon watched his first Business Opportunity Presentation and immediately saw the potential of building his very own home-based business with Talk Fusion.
"There are hundreds, even thousands, of companies offering some kind of opportunity but no one like Talk Fusion with a generous Compensation Plan and innovative Instant Pay," says Walter.
With an unyielding drive for financial freedom and better future for himself and his family, Walter joined Talk Fusion as an Independent Associate.
His drive paid off—fast. By committing himself to the business and following Talk Fusion's proven system, Walter rapidly climbed the company's hierarchy of success to achieve the esteemed rank of Diamond Elite in just over a year. The financial and time freedom he once thought impossible were now exciting realities.
"Talk Fusion has changed my life in many ways," says Walter. "I was able to get financially stable and it gave me the chance to manage and work on my own time."
Walter now travels the world sharing the Talk Fusion Products and Opportunity in beautiful locales including Madrid, Rome, and numerous cities throughout his home country of Peru. Unlike his previous job, Walter's hard work is rewarded handsomely with two luxury vacations to Hawaii per year courtesy of the Talk Fusion Dream Getaway trip incentive.
Walter continues to excel as a shining example of Talk Fusion's life-changing potential for individuals across the globe. Talk Fusion is much more than a means to his own prosperity; it's a chance for Walter to give back to the world that's given him so much.
Income Disclaimer:
Any earnings portrayed in any Talk Fusion marketing materials are not necessarily representative of the income, if any, that a Talk Fusion Associate can or will earn through his or her participation in the Talk Fusion Instant Pay Compensation Plan. All references to income, implied or stated, throughout the Talk Fusion Instant Pay Compensation Plan are for illustrative purposes only. These figures should not be considered as guarantees or projections of your actual earnings or profits. Talk Fusion does NOT guarantee any level of income or earnings to any Associate; any representation or guarantee of earnings would be misleading. The purchase of a Talk Fusion Product Package is completely optional and is not required for an Associate to participate in the Talk Fusion Instant Pay Compensation Plan.