TelexFree Accused Of Tax Fraud And Promoting Money Laundering
March 20, 2014
By Team Business For Home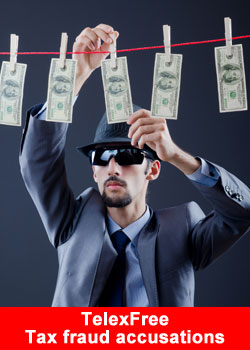 Telex Free Rwanda Company channeled over $11.3 million to Germany and the US without taxes, according to a new report on the operations of the company. The report was released yesterday hours after government announced a ban on the operations of the company.
The probe report, obtained by The New Times, accuses the firm of promoting money laundering that has the potential to facilitate terrorist activities. Telex Free Ltd which registered in June 2013, was banned from operating in the country due to what the government termed as illegal foreign financial transactions.
P.L.I Telexfree Rwanda Ltd activities are similar to that of a pyramid scheme which can easily be a channel to jeopardise the financial sector and facilitate money laundering.
The Ministry of Trade and Industry hereby informs the general public that the operations of P.L.I TELEXFREE RWANDA Ltd are banned, the ministry said in a statement.
The company is accused of operating a pyramid scheme style business that benefits few people leaving many counting losses. Though Telex Free locally registered by shares with two owners, it worked as a liaison office for the Telex Free head office in the US.
All the financial operations in Kigali were remotely controlled by the US office. In Kigali, it was managed by Fred Murangira, a Rwandan and Stephen Assimwe, a Ugandan national. The Ministry of Trade and Industry and the central bank commenced investigations into the company's activities after realising some illegalities.
They told us that $6 million was to be sent to Rwanda from US as taxes but they failed to justify it, Emanuel Bayingana, the ministry official in charge of competition said in an interview.
Bayingana, who was among the investigators, added that the company was benefiting the owners in the US at the expense of Rwanda's economy.
Source: allafrica