TelexFree Responds To False Allegations
March 29, 2014
By Team Business For Home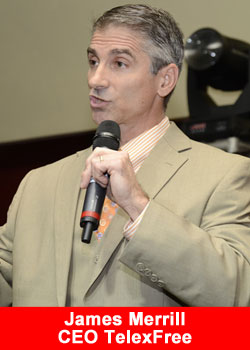 TelexFree today attempted to clarify what it believes to be a case of mistaken identity arising from an action by the Rwanda Ministry of Trade and Industry.
TelexFree is a telecommunications company that in February 2014 booked 10,859,669 minutes of VOIP calls internationally, 15,275 of them terminating in Rwanda (less than one tenth of one percent of the company's volume.)
According to a report posted by the Rwanda Eye, a company with a name resembling TelexFREEP.L.I. TelexFree (Rwanda) Ltd.failed to pay taxes of more than $6 million, has been channeling millions of dollars through Rwandan accounts, and is suspected of crimes ranging from tax evasion to money laundering.
Subsequently, the Rwanda Eye reports, The government of Rwanda recently announced the ban of all operations of P.L.I. Telexfree Rwanda Ltd.
TelexFree says,
As far as we can tell, this has nothing to do with us other than the fact that somebody is making illegal use of our name. We have in the neighborhood of half a million customers worldwide, and 121 of them are in Rwanda. But we have no connection with P.L.I. Telexfree Rwanda Ltd., the company shutdown in Rwanda.
That company allegedly has been in business for 14 years, whereas we just celebrated our second year in business. We've checked our records and find no evidence of the names of the persons associated with that company registered as either our customers or agents. Rwanda wasn't on our radar until this report hit the Internet.
But some news agencies continue to confuse the two: The East African, reporting on initial investigations of P.L.I. Telexfree Rwanda Ltd., displayed a photo of the TelexFREE website. And although calls have been made on the TelexFREE system to Rwanda and commissions have been paid to a few agents, TelexFREE has not been contacted by the Rwandan government, nor does it have any reason to believe any action has been taken against it.
It's both the power and the challenge of VOIP, says TelexFREE. Virtually anyone can register and use the system. The best we can figure out right now is that somebody is using our sales program to channel their own agenda, and that kind of repackaging is strictly prohibited by our Policies and Procedures. Our attorneys are doing all they can to find out what is going on.
TelexFREE is a private company headquartered in Marlborough, Mass. USA, with offices in a number of regions around the world, but not in Rwanda. TelexFREE has no corporate presence whatsoever in Rwanda.
For more information contact
C.J. Holt
1.888.712.4684