USA – Massachusetts State Investigates Telexfree
March 6, 2014
By Team Business For Home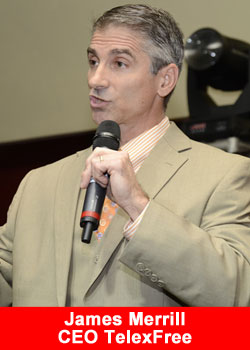 Massachusetts Secretary of State William Galvin's office is investigating Telefree that has already been banned in Brazil for running a pyramid scheme.
The inquiry stemmed from the office's investigation into a similar company that was accused of targeting Brazilian immigrants in Massachusetts with a multi-marketing scam, said Brian McNiff, a spokesman for Galvin.
Telexfree, whose U.S. headquarters are in an office building on Cedar Hill Street, Marlborough, has also directed its advertising to the local Brazilian community.
Ilma Paixao, general manager at WSRO radio in Framingham, said representatives from the company approached her on several occasions in the past year to try to buy advertising at the station, which broadcasts Portuguese programming.
We said 'no', she said.
She said she doesn't have any evidence Telexfree is illegitimate, but didn't feel comfortable supporting it after having trouble finding information about its history and business model.
Many local Brazilians have spoken highly of the company, however, she said. I haven't had anybody come to me who spoke badly about it.
Telexfree's Brazilian division was ordered to cease activities in the country last July by a court injunction in the Brazilian state of Acre. The judge in that case found the company's operations constituted a financial pyramid, which is banned in Brazil, according to a copy of the decision.
The U.S. Securities and Exchange Commission, following agency protocol, would neither confirm nor deny it is also looking into Telexfree's U.S. business, spokesman Kevin Callahan said Wednesday. McNiff, of Galvin's office, said he couldn't provide any details about the state's investigation.
Attempts to contact Telexfree's Marlborough office on Wednesday were unsuccessful. The company's website has no direct number, and a manager reached via a customer service line posted on Telexfree's Facebook page said he did not have a contact number for its corporate office.
An email sent to Steve Labriola, the company's marketing manager, was not returned before the Daily News' deadline Wednesday.
The state's records identify James Merrill as the company's president and Carlos Wanzeler as its treasurer.
On its website, the company makes pitches both to customers, who are offered an Internet-based phone service, and promoters. Promoters can buy packages ranging from $50 to a $1,375 family kit that allow them to post ads for the company for which they will be paid.
The model is similar to a system utilized by a company called WCM777, which offered buy-in packages that would make the purchaser eligible for various referral bonuses and commissions, according to Galvin's office. The company sold packages worth a combined $300,000 to around 160 Massachusetts residents, the majority of whom were Brazilian, before the secretary ordered the company to halt its operations in the state in November.
Another suspected Ponzi scheme that ran in the Framingham area in 2006, Universo Foneclub Corp., targeted Brazilians as well. The company was dissolved in 2006 after the SEC obtained a restraining order against it and froze its assets.
Source: Milford Daily News in the USA