Herbalife Punished 600 Distributors For Medical Claims – ABC News
April 25, 2014
By Tina Williams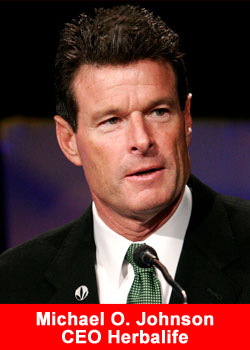 Herbalife, a weight loss and nutrition company being investigated for allegations of running a pyramid scheme, disciplined hundreds of distributors last year for making unsubstantiated medical claims about its products, ABC News reported on Wednesday.
The network said the company disclosed the internal figures after an ABC News investigation found what it called numerous examples of distributors boasting to potential customers that the company's products helped treat maladies ranging from diabetes to heart disease.
In one case, an ABC reporter posing as a customer caught a Staten Island, New York, distributor on a hidden camera saying a woman overcame a brain tumor after using Herbalife products, the network said.
Asked by ABC in a televised report if Herbalife cured brain tumors, Herbalife President Des Walsh said: Absolutely not. Frankly, I am appalled to hear you say this because what is happening there is a complete and absolute violation of our rules.
Asked if such incidents happened often, Walsh replied: I do not believe so, adding: These instances … are absolute aberrations. … This is not the Herbalife I know.
ABC said that since the interview, Herbalife had told the network it disciplined almost 600 distributors last year for making such claims and stripped 12 of their distributorships.
The network quoted Herbalife training materials as saying: Nutrition club members may share their experiences from using the products, but the products are not intended to diagnose, treat, prevent or cure any disease or medical condition, and under no circumstances should there be any statements, advertising or implications to the contrary.
The company did not immediately respond to a Reuters request for comment.
Several civil rights groups have charged that Herbalife is a pyramid scheme, which is a company that makes more money from signing up recruits than from selling products or services to retail customers.
The company denies the allegations. High-profile investors such as Carl Icahn, George Soros and Daniel Loeb have supported Herbalife in the past by taking stakes.
The Federal Trade Commission, the FBI, New York State Attorney General Eric Schneiderman and Illinois Attorney General Lisa Madigan have all begun investigations into Herbalife.
Hedge fund manager William Ackman was the first to call Herbalife a fraud. He placed a $1 billion bet against the company in 2012.