Herbalife Recognized as a Corporate Role Model In Latino Magazine's Second Annual "Latino 100" Spring 2014 Issue
April 23, 2014
By Tina Williams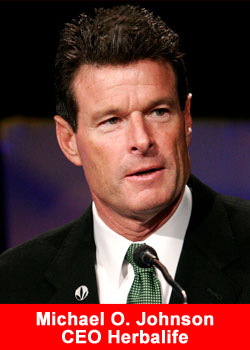 Herbalife (HLF), a leading global nutrition company, is proud to announce its recognition as one of the leading companies recognized in LATINO Magazine's "LATINO 100" Spring 2014 issue, an annual listing that spotlights companies providing the most viable business opportunities for U.S. Latinos.
"We are incredibly honored by LATINO Magazine's acknowledgment of Herbalife as one of the top corporate supporters of the growing U.S. Latino population," said Ibi Fleming, senior vice president and managing director, Herbalife North America. "Latinos across the country have historically embraced Herbalife's nutrition products since the company's founding in 1980. Their success is a tribute to the hard work of our members and a clear demand among Latinos for a healthy lifestyle. We are also proud to be acknowledged for our work in fostering and ensuring workplace diversity in our corporate culture."
Herbalife recognition in LATINO Magazine's respected "LATINO 100" list brings awareness to the company's unique distribution platform and business practices as well as its robust, loyal Latino membership which comprises over half of Herbalife U.S. business. Herbalife® products are sold by independent members, some of whom join to supplement their income through the income opportunity available. The Company provides numerous protections for members and consumers alike, including low initial investment and a fully refundable average start-up cost of $59.25, as well as an industry-leading and comprehensive product return policy.
Most notably, the inclusion of Herbalife in the "LATINO 100" listing recognizes the company's commitment to and continued support of the U.S. Latino community. In a 2013 survey of the U.S. population conducted by Lieberman Research Worldwide and commissioned by Herbalife, 85 percent of Latino participants rated Herbalife "Good," "Very Good" or "Excellent."
"We are continually inspired by the entrepreneurial spirit, hard work and perseverance of the Latino community and are committed to supporting them through the Herbalife ever-expanding portfolio of nutrition products, business tools, and training," added Fleming.
A global nutrition company currently operating in more than 90 countries, Herbalife aims to help fight obesity and poor eating habits by offering high-quality nutrition products, personal high-touch coaching, and a social environment that inspires customers to make good nutrition choices, maintain a healthy weight, and pursue an active lifestyle. For additional information on Herbalife, please visit www.herbalife.com.
About Herbalife Ltd.
Herbalife Ltd. (HLF) is a global nutrition company that sells weight-management, nutrition, and personal care products intended to support a healthy lifestyle. Herbalife products are sold in over 90 countries through and to a network of independent distributors. The company supports the Herbalife Family Foundation and its Casa Herbalife program to help bring good nutrition to children. The Herbalife website contains a significant amount of financial and other information about Herbalife, for investors at https://ir.Herbalife.com. The company encourages investors to visit its website from time to time, as information is updated and new information is posted.
About the methodology of LATINO Magazine's "LATINO 100"
In its second year, the listing's objective is to present a perspective on corporate support for the Latino community in various areas, including philanthropy, workforce diversity, minority business development, and governance.
Nominations for the "LATINO 100" issue were submitted both formally and informally by Latino non-profits and community organizations as well as magazine readers, partners and stakeholders. The listing, in which companies appear alphabetically, was compiled by the editors of LATINO from these nominations based upon the editors' own research and information gathering.
About LATINO Magazine
A bi-monthly national publication (circulation: 50,000) that focuses on issues, politics and culture related to Latinos in the United States.