Industry Veterans Join Robust Roster of ViSalus Promoters
April 15, 2014
By Tina Williams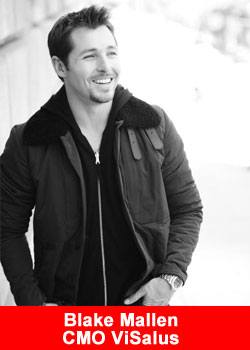 ViSalus, Inc., the company behind the #1 90-Day weight-loss and fitness challenge platform in North America, has added 10 new top industry professionals to the roster of Vi Promoters.
Veteran heavy hitters Patrick Ashby, C. Anthony Harris, Ron & Tony Jarrah, Chris & James Levins, Tina Lewis, Steve & Yvette Mitchell, and Charles Monk all paved the way to success with ViSalus in 2014.
Patrick Ashby
Patrick Ashby wasn't looking for business when he was introduced to ViSalus. He came out of retirement to mentor ambitious Vi Promoters, allowing them to bring health benefits to their communities while instilling the confidence that comes with self-employment. Watching others take pride in their success makes our desire for a happier, healthier community possible, says Ashby whose life has been enriched by helping others attain their goals and dreams.
C. Anthony Harris
C. Anthony Harris attributes his success and attaining the rank of 2-Star Ambassador in just 45 days* to teamwork and his commitment to continuously challenging others. Harris is known for his ability to inspire and mentor those who want to align their actions with their mission. Leading by example with passion and purpose, Harris makes it his mission to support, train and mentor individuals professionally and financially.
Ron & Tony Jarrah
Brothers Ron and Tony gravitated to the leadership and saw the limitless value in ViSalus' emphasis on the human connection. Ron says, You are able to approach 95% of the people rather than the 5%. Ron and Tony are well on their way to becoming top earners after less than six short months* by simply approaching people as people, not as salesmen.
Chris & James Levins
ViSalus also welcomed another team of brothers in Chris & James Levins. Chris and James left a three-year run at an energy company and joined the health and fitness industry through ViSalus with Chris stating, The sky is the limit. Attracted to ViSalus' strong leadership, James enthuses, We're continually impressed with how Nick Sarnicola leads his team and just tells it like it is.
Tina Lewis
Reaching Ambassador rank in just 48 days*, Tina Lewis teaches her team how to turn messes into messages and trials into triumphs through her mantra, NODIA – Nobody Does It Alone. You can't impact your own life until you impact someone else's, says Tina. Her no excuses approach keeps Tina rising in the ranks because she understands partnerships are what create the success around her, as well as solutions to obstacles.
Husband and wife team, Steve and Yvette Mitchell, who reached the rank of 1-Star Ambassador*, were drawn to the company for its effective and affordable products. The pair is now working to develop a global presence for the company with their strong European network. Recognized as a top income earner within the industry, Steve focuses his attention on bringing the domestic success of PROJECT 10 to an international market with the goal of combatting global obesity.
Charles Monk
Vi Presidential Director* Charles Monk relocated his entire family from the Philippines to Canada and has his worldly goals set on mobilizing the best Filipino team ever. His plan includes helping overweight kids lead a healthier lifestyle through ViSalus' PROJECT 10™ Kids.
ViSalus Co-Founder Nick Sarnicola says, Our Promoters are the best in the industry, each bringing individualized talents to a team of professionals building healthier communities, both domestically and internationally, through PROJECT 10™ where it all begins with either losing 10 lbs. or building 10 lbs. of lean muscle.
*Results not typical. Achievement in rank and income depends upon many factors such as hard work, determination, financial resources and social contacts.
About ViSalus
ViSalus, Inc. is a healthy lifestyle company that is dedicated to Taking Weight Off the World.™ One person at a time. 10 lbs. at a time. Founded in 2005, ViSalus develops high-quality weight-management products and nutritional supplements that it markets and sells direct-to-consumers through an international sales force of independent promoters. ViSalus markets its products in North America under the ViSalus® brand and in Europe under the Vi™ brand, through the Body by Vi Challenge®. ViSalus is headquartered in Los Angeles, California and Troy, Michigan and is majority-owned by Blyth, Inc.