LegalShield To Sponsor In The 2014 IndyCar Series
April 3, 2014
By Tina Williams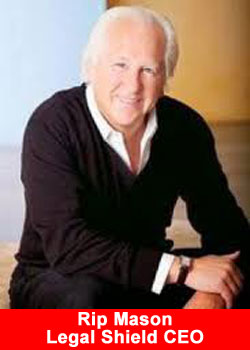 LegalShield, one of the nation's leading providers of legal safeguards for individuals, families and small businesses, announced today that it has reached an agreement with Indianapolis 500 winning team Bryan Herta Autosport (BHA) and Bowen & Bowers Motorsports (BBM), to sponsor the No. 98 Honda driven by Jack Hawksworth.
Hawksworth, 23, joins BHA for his rookie IndyCar season following success last season in the Firestone Indy Lights Series where he won three races and finished fourth in the championship.
LegalShield will become an associate sponsor of the BHA/BBM No. 98 Honda throughout the 2014 season, which consists of 18 IndyCar Series races across North America, including the 98th running of the Indianapolis 500. LegalShield's logo and branding will be prominently featured on the rear wing end fences of the racecar, team transporter, pit equipment, uniforms and driver suit.
"We couldn't be more thrilled to begin this partnership with an Indy 500 winning team," said Rip Mason, CEO of LegalShield. "Like BHA and BBM, LegalShield is committed to excellence in everything we do. We look forward to being a part of their success this season in the IndyCar Series."
"We're very happy to welcome LegalShield to the BHA/BBM Family as a sponsor of the No. 98 car this season," said Bryan Herta. "More than ever, people need strong legal protection, and for over 40 years LegalShield has been fighting for the legal rights of their customers. The 2014 season is shaping up to be our best one yet! "
The 2014 Indycar season will begin in just under three weeks with the Firestone Grand Prix of St. Petersburg on Sunday, March 30th on the streets of St. Petersburg, FL.
About Bryan Herta Autosport
Founded by veteran driver Bryan Herta, and noted race engineer and team manager Steve Newey, Bryan Herta Autosport (BHA) has been a race-winning team in Firestone Indy Lights competition since 2009 and won the 2011 Indianapolis 500 with driver Dan Wheldon in only its second IZOD IndyCar Series start. BHA currently fields entries in the INDYCAR Series and Firestone Indy Lights with Curb – Agajanian. Since 2012, BHA has partnered with Bowen and Bowers Motorsports, Inc. (BBM). Based in Toronto, Ontario, BBM is the coming together of leading sports and entertainment property development professionals, Chris Bowers and David Bowen, along with the financial management experience of Trapeze Asset Management Inc. For more information, visitwww.bryanhertaautosport.com.
About LegalShield
LegalShield is one of the nation's leading providers of legal safeguards for individuals, families and small businesses. LegalShield also offers one of the industry's most affordable identity theft plans. Members receive identity theft protection for the entire family for the cost most competitors charge to cover a single individual. LegalShield legal plans cover more than 1.4 million families and 3.7 million lives across North America. More than 34,000 companies offer the LegalShield plan to their employees as a voluntary benefit. For as low as $20 per month, LegalShield members get access to attorneys who are experienced in the areas of law that most impact families and small businesses. Unlike other legal plans or do-it-yourself websites, LegalShield has dedicated law firms in 49 states and four provinces in Canada that members can call for help without having to worry about high hourly rates. The attorneys at these firms have an average of 19 years of experience in such areas as family matters, estate planning, financial and business issues, consumer protection, tax, real estate, benefits disputes and auto/driving issues. In 2013 alone, LegalShield firms received more than 1.8 million calls from members.