Ralf Schönwerth Is Visalus' First Ambassador In Germany
April 20, 2014
By Tina Williams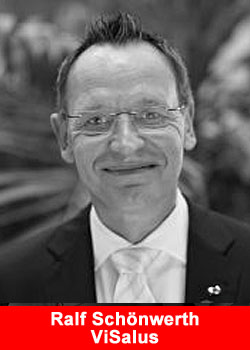 As Vi expands its global footprint, inspiring success stories are already emerging throughout the newest European markets. Just last month, Vi welcomed its first-ever German Ambassador: Ralf Schönwerth.
Ralf, one of Germany's most successful networkers since 1999, sees it as his duty to help others improve their lives and grow personally. He regards the PROJECT 10™ Challenge as a chance to help many others move forward. When Ralf Schönwerth first heard about Vi Austria and Vi Germany, he knew that The Challenge was a completely new system.
Ralf wasn't new to the network marketing industry, but even after he had worked with several fitness and weight-loss systems, nothing has come close to what Vi has made possible for him.
He is a maker, after all. He does not lean back and watch success slowly roll in. Ralf took The Challenge, and it has changed…everything. It's no wonder he is Germany's first Ambassador who leads his team into greatness every day. As a skilled auto mechanic, he is extremely detail-oriented and cares about his team. The best leaders create more leaders, which is definitely true in Ralf's case.
Ralf, wanting more out of life, Challenged himself to walk the Camino de Santiago—833 km in 33 days. This experience has shaped his business goals ever since. "Take control of your life and make it better," Ralf said. "I'm convinced that Vi gives people the chance to make their dreams come alive. My personal mission as a Vi Promoter is to help people make these dreams come true."
So, what's next for Ralf? "Creating as many BMW drivers as possible of course." he said. "If we didn't have the Bimmer Club already, we'd invent it…".
Vi Austria and Vi Germany are proud to celebrate their first Ambassador, and look forward to recognizing many more who follow Ralf's lead!