Talk Fusion Associate Beverly Monical – A Survivor's Story
April 29, 2014
By Team Business For Home
Beverly Monical of Tampa, FLorida, USA is no stranger to overcoming adversity against all odds. As a three-time cancer survivor, Beverly exemplifies just what it means to fight for everything you deserve as a Talk Fusion Associate.
It all started over 20 years ago when Beverly noticed a lump on her breast. Like many women, she went to her doctor for an examination and he told her it was nothing to worry about. Beverly accepted his diagnosis, but left with the lingering feeling that she should seek a second opinion. Luckily, she did. The second doctor called for immediate surgery and soon thereafter diagnosed the lump as a high-grade, fast-growing form of cancer.
Following the removal, Beverly went on to lead an active, healthy lifestyle as a mother and businesswoman. She joined Talk Fusion in 2010 and hit the ground running as a video marketing expert excited about her future.
In September of 2012, Beverly felt like she had pulled a muscle in the right side of her torso. She exercised regularly, so this was nothing out of the ordinary for an active person like her. After an X-ray, Beverly was diagnosed with a collapsed middle lobe in her right lung. The doctors also noticed a strange shadow in the same area. She was treated with very strong steroids and antibiotics, but that was, unfortunately, just the beginning.
Beverly's pain worsened significantly over the following weeks. When she finally went back to the doctor in October of 2012, Beverly was told she had Stage 3B Non-Small Cell Adenocarcinoma, or lung cancer, at the age of 57. Even as a regular exerciser, healthy eater and non-smoker, Beverly now had a life-threatening disease and a mere 15% chance of survival.
She started treatment immediately, visiting the doctor two times per day, five days per week for radiation therapy and intermittent doses of chemotherapy. When it was all over, Beverly had undergone 5 ½ weeks of radiation and 12 chemotherapy sessions. The toll on Beverly's body was astounding, and so were the costs. This was when Talk Fusion stepped in to help. Under the leadership of Founder & CEO Bob Reina, the company raised over $22,000 for Beverly's medical bills.
"I remember getting a call from the CEO, Bob Reina and my first thought was 'did I hear that correctly?' I had met Bob several times but for him to pick up the phone just to ask me about what I was going through made me cry," said Beverly. "He wanted to help then and he did with a huge donation to a fundraiser my kids set up for my medical bills."
Through all of this, Beverly used Talk Fusion Video Email to document her battle. She documented everything from shaving her head to updating friends and family while hooked up to an I.V. for chemotherapy to inspire and encourage others who might be going through the same thing.
The treatments eventually worked, but not without some serious residual damage. In early 2013, Beverly was hospitalized for 17 days due to a massive build-up of fluid around her heart and lungs caused by the radiation treatment. The doctors eventually drained about 3 liters of fluid from the areas surrounding these vital organs.
Things eventually began to look up. Beverly's scans were coming back clear and she began returning to the life she lead before her cancer, working her Talk Fusion business and spending time with the family she loved.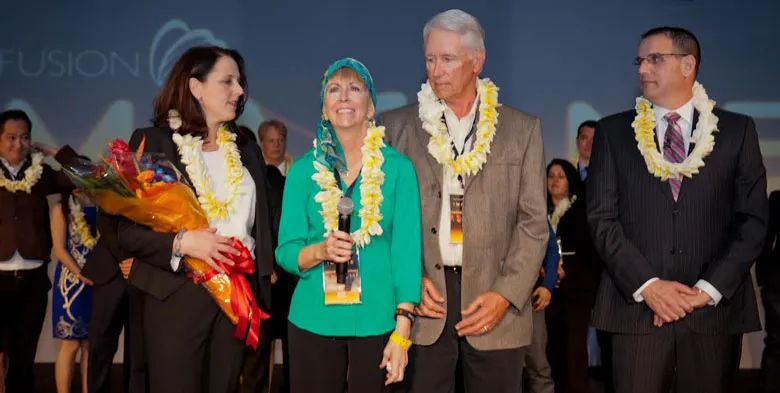 In February of 2014, Beverly started to experience dull headaches that didn't respond to over-the-counter pain medicines or chiropractic adjustments. She reluctantly returned to Moffitt Cancer Center for an MRI. The results were devastating. Doctors discovered four metastatic tumors in her brain, which had spread from the cancer in her lungs.
Beverly immediately began to undergo her second round of radiation, losing all of her hair, and enduring the familiar pain over two weeks of treatment. Always a tenacious worker, Beverly was distraught that she now wouldn't be able to reach the rank of Diamond and qualify for Talk Fusion's Dream Getaway trip incentive to Hawaii, a milestone she'd always wanted to accomplish as an Associate.
Miraculously, Beverly's doctors soon shared the great news that her scans had come back clear. Except for a spot on her brain, which they assured would be gone soon, Beverly was once again cancer free.
Soon after, Beverly made her plans to attend IMAGINE, Talk Fusion's biggest corporate event of the year taking place in her hometown of Tampa. It was just what she would need to reinvigorate her renewed approach to the business.
Beverly joined hundreds of Talk Fusion Associates just like her from all around the world at IMAGINE. The event brought many surprises including new websites and product announcements from the company, but Beverly had no idea what was waiting for her when she and her husband Bill were called to the stage during the main event.
Fighting back tears, Talk Fusion VP of Training & Development Allison Roberts announced that Beverly and her husband would be joining the company for its Dream Getaway Vacation to Hawaii in June. Her dream of going to Hawaii had finally come true.
"I have no doubt Beverly would have achieved Diamond on her own had there not been health challenges," said Roberts. "She is an inspiration to so many."
Beverly will continue to be a shining example of Talk Fusion's culture of caring and its endless commitment to put people first.
"Talk Fusion has been so generous and supportive to me through all these hurdles and that shows you the giving back attitude this company has for so many causes," said Beverly. "They treat us like family, not just Associates."
Income Disclaimer:
Any earnings portrayed in any Talk Fusion marketing materials are not necessarily representative of the income, if any, that a Talk Fusion Associate can or will earn through his or her participation in the Talk Fusion Instant Pay Compensation Plan. All references to income, implied or stated, throughout the Talk Fusion Instant Pay Compensation Plan are for illustrative purposes only. These figures should not be considered as guarantees or projections of your actual earnings or profits. Talk Fusion does NOT guarantee any level of income or earnings to any Associate; any representation or guarantee of earnings would be misleading. The purchase of a Talk Fusion Product Package is completely optional and is not required for an Associate to participate in the Talk Fusion Instant Pay Compensation Plan.