Talk Fusion's Desire Nongol Achieves His Dreams
April 10, 2014
By Team Business For Home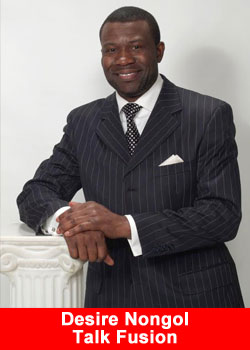 Talk Fusion's Desire Nongol Achieves his Dreams of Giving Back Around the World.
Desire Nongol of Maryland, USA is no stranger to adversity. After moving from his home country of Cameroon, West Africa to the United States, Desire worked more than 80 hours per week at two full-time jobs just to provide a better life for his family back home.
"I couldn't see my kid growing. I couldn't actually sleep in the house that I bought. I wanted to have more for my family, for my friends, and for many people in my situation," said Desire.
Like many, Desire had the drive and determination to achieve a more prosperous future for himself and his family; he just wasn't in the right vehicle to get there.
He knew he deserved more than he was being paid for his hard work, but faced a lack of real opportunities to earn his true worth—until he discovered Talk Fusion. Desire was amazed as he watched the company's flagship Video Email product in action for the first time; clearly Talk Fusion had something incredible on their hands.
"I had never seen that technology before and I suddenly recognized the potential of what we have at Talk Fusion," said Desire.

"Later on, when I came to the Business Opportunity Presentation, I saw the rest of the products and understood that we can get connected around the world with what we have."
Determined to provide a better future for those back home, Desire joined Talk Fusion as an Independent Associate. He committed to Talk Fusion's simple system of success and began sharing the company's innovative products and Business Opportunity with everyone he knew. The payoff was incredible in more ways than one.
"When I heard that we can get paid within three minutes and have immediate access to that money, I thought wow. I'm still shaking still now because I know what difference this can make," said Desire. "Back home, a single sale can feed a family of five for an entire week, and that's how you can make a difference in other people's lives."
Talk Fusion always meant more than just extra income to Desire; it was his chance to make a difference in the lives of those who needed it most. After 17 months with the company, Desire's selfless determination has helped him build and mentor an international team of successful Associates while reaching the highly distinguished rank of Blue Diamond. Along the way, he's earned incentives like the opportunity to own a new Mercedes-Benz courtesy of Talk Fusion's Mercedes Madness Car Bonus and enjoy two trips per year to tropical Hawaii on the Talk Fusion Dream Getaway.
Today Desire travels the world, visiting places like Japan, Russia, the Czech Republic, France and Belgium, sharing his story of success and enjoying the financial and time freedom he could once only dream of.
"I always say 'Freedom has no price' to my friends and family," said Desire.

"People in various countries, friends who are here, people who are working hard the way I was working now get a chance to have that freedom with Talk Fusion."
Income Disclaimer:
Any earnings portrayed in any Talk Fusion marketing materials are not necessarily representative of the income, if any, that a Talk Fusion Associate can or will earn through his or her participation in the Talk Fusion Instant Pay Compensation Plan. All references to income, implied or stated, throughout the Talk Fusion Instant Pay Compensation Plan are for illustrative purposes only. These figures should not be considered as guarantees or projections of your actual earnings or profits. Talk Fusion does NOT guarantee any level of income or earnings to any Associate; any representation or guarantee of earnings would be misleading. The purchase of a Talk Fusion Product Package is completely optional and is not required for an Associate to participate in the Talk Fusion Instant Pay Compensation Plan.