TelexFREE CFO – Joe Craft Caught With $37.9 Million
April 18, 2014
By Team Business For Home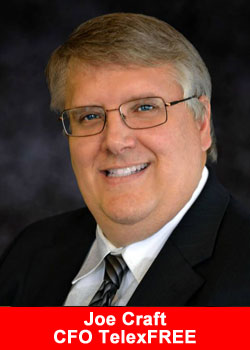 During the raid of the TelexFREE offices, a FBI agent caught TelexFREE CFO Joe Craft who tried to leave the building with his laptop, and $37.9 million dollars in cashiers checks, in a black sports bag.
2 days before, TelexFREE had filled for Bankruptcy, we wonder how Joe Craft will explain that to a judge….
According to the SEC:
"The Commission has not yet been able to obtain a complete set of statements from the defendants' banks, brokerage firms, and credit card payment processing services," the SEC said in its complaint.
"However, the information available to date, from bank records and other financial records as well as from statements made by various defendants, indicates that Merrill and Wanzeler, who had sole authority to transfer TelexFree corporate funds until the bankruptcy filing, have caused more than $30 million to be transferred from TelexFree operating accounts to themselves and to affiliated companies in the past few months."
Source: Behind MLM