Top 100 Global Direct Selling Companies Published
April 25, 2014
By Team Business For Home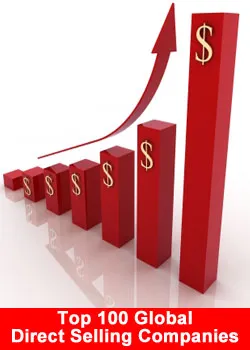 Direct Sellling News is doing an awesome job by publishing the Top 100 Global Direct Selling Companies.
Direct Selling News Magazine has been serving direct selling and network marketing executives since 2004.
Written by journalists who understand the direct selling business model, they feature stories provide in-depth looks at the current issues facing direct selling as well as the companies that embody the entrepreneurial spirit of the industry.
The following contains the ranking for the 2014 DSN Global 100 (based on 2013 revenues), the annual list of the top revenue-generating direct selling companies in the world.
The list is published in the June issue of Direct Selling News.
| Rank | 2013 Revenue | Company Name | 014 Rank |
| --- | --- | --- | --- |
| 1 | 1 | Amway | $11.80B |
| 2 | 2 | Avon | $9.95B |
| 3 | 3 | Herbalife | $4.80B |
| 4 | 4 | Vorwerk | $3.70B |
| 5 | 5 | Mary Kay | $3.60B |
| 6 | 6 | Natura | $3.20B |
| 7 | 7 | Nu Skin | $3.18B |
| 8 | 8 | Tupperware | $2.67B |
| 9 | 9 | Belcorp | $1.96B |
| 10 | 10 | Oriflame | $1.95B |
| 11 | 11 | Primerica | $1.27B |
| 12 | 12 | Ambit Energy | $1.20B |
| 13 | 13 | Telecom Plus | $1.10B |
| 14 | 14 | Stream Energy | $867M |
| 15 | 15 | Yanbal | $848M |
| 16 | 16 | Miki | $783M |
| 17 | 17 | Thirty One | $763M |
| 18 | 18 | Blyth | $750M |
| 19 | 19 | USANA | $718M |
| 20 | 20 | ACN | $700M |
| 21 | 21 | New Era | $678M |
| 22 | 22 | Market America | $547M |
| 23 | 23 | Amore Pacific | $520M |
| 24 | 24 | Forbes Lux | $489M |
| 25 | 25 | Scentsy | $485M |
| 26 | 26 | AdvoCare | $460M |
| 27 | 27 | It Works Global | $456M |
| 28 | 28 | Noevir Holdings | $455M |
| 29 | 29 | Isagenix | $448M |
| 30 | 30 | COSWAY | $440M |
| 31 | 31 | YoFoto | $428M |
| 32 | 32 | Arbonne | $413M |
| 33 | 33 | Better Way | $407M |
| 34 | 34 | Natures Sunshine | $378M |
| 35 | 35 | For Days | $376M |
| 36 | 36 | Apollo | $340M |
| 37 | 37 | Team National | $332M |
| 38 | 37 | KK ASSURAN | $332M |
| 39 | 39 | Team Beachbody | $328M |
| 40 | 40 | LR Health and Beauty Systems | $323M |
| 41 | 41 | 4Life | $300M |
| 42 | 42 | Longrich | $292M |
| 43 | 43 | PM International | $284M |
| 44 | 44 | Neways | $280M |
| 45 | 45 | Viridian Energy | $267M |
| 46 | 46 | Jeunesse | $257M |
| 47 | 47 | North American Power | $256M |
| 48 | 48 | MENARD | $255M |
| 49 | 49 | Southwestern Advantage | $253M |
| 50 | 50 | Elken | $233M |
Showing 1 to 50 of 100 entries