Top Coffee Network Marketing And MLM Opportunities
April 14, 2014
By Team Business For Home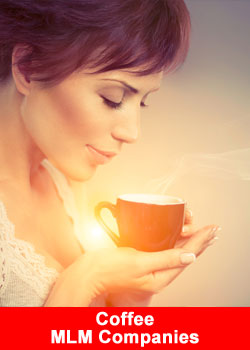 Coffee plants are cultivated in more than 70 countries, primarily in equatorial Latin America, Southeast Asia, and Africa.
Once ripe, coffee berries are picked, processed and dried to yield the seeds inside. The seeds are then roasted to varying degrees, depending on the desired flavor, before being ground and brewed to create coffee.
According to the coffee industry:
Coffee is the second most consumed drink, only surpassed by water.
Coffee is the second most traded commodity, only surpassed by oil.
200 billion cups are consumed daily around the world.

As a MLM or Network Marketng opportunity a growing number of companies offer a business opportunity around (healthy) cofffe. Below you find an overview, without any particular order 🙂
Instant coffee with Hazelnut and Ganoderma Lucidum with a rich aroma and the flavour of fresh brewed coffee. It's a convenient anytime drink that is ready in seconds. Gano Excel is an internationally recognized and rapidly growing direct sales company that established operations in 1995.
Featuring the world's largest 100% organic ganoderma lucidum (reishi) plantation, an internationally recognized Good Manufacturing Practices (GMP) factory, and an effective direct selling network in over 68 countries, Gano Excel is the leading company in research, cultivation, and production of innovative world-class ganoderma lucidum nutritional products, beverages, and personal care products.
Based in Boca Raton, Florida, Javita is a debt-free company started by a group of successful business people who love coffee and believe in the direct-selling method of distribution. Combined, the Javita team has more than a century's worth of industry experience and they have built successful companies in the U.S. and abroad. Javita was created to provide a long-term home for people interested in a part-time or full-time business opportunity.
Sisel Kaffé combines it's famous black coffee, made from delicious Panama Boquete Gesha Coffee Beans and four health promoting supplements, with a blend of four core weight loss support ingredients and seven thermogenic fat burning ingredients to support your weight loss goals. With Weight Loss Kaffé, you get the award winning taste of Panama coffee and the weight loss support you need to help you achieve your goals in a delicious way.
Organo Gold is a global Network Marketing company on a mission to spread knowledge of Ganoderma to the entire world.The company's primary products are premium coffees, teas and cocoa enhanced with renowned Chinese herbal powders such as Ganoderma and Panax Ginseng.
SereniGy utilizes 100% Arabica Bean Coffee grown at high altitude for higher ph value. Green beans are imported to USA for a small batch, slow roast proprietary roasting. Health component of the 100% Certified Organic Reishi mushroom is processed using nano-technology making nutrient component up to 98% immediately absorbable at ingestion.
As a Multi-Level Marketing business headquartered in Austin, Texas, Sozo is dedicated to providing a once in a lifetime opportunity to their distributors. Sozo offers healthy products and a chance to run your own business at the pace that you choose. In the case of SOZO Select, we have added an extract that comes from the coffee fruit itself, which no other coffee company offers. This coffee fruit extract is known as CoffeeBerry®, and it provides an abundance of poly-phenols and phenolic acid that cannot be matched by any other plant.
JavaFit Gourmet Coffee features a blend of 100% premium Arabica coffee from the finest regions of Latin America. The freshly roasted beans in each unique blend are carefully chosen by our experienced staff to create a delicious, full-bodied flavor and irresistible aroma. Many of our consistently rich, gourmet coffees are packed with vitamins, minerals and supplements to support a healthy lifestyle.
The core business activities of DXN include cultivation, manufacturing and marketing of the health food supplements. Based in Malaysia with worldwide operation, the company is well-known for its Ganoderma business. DXN was founded by Dato´ Dr. Lim Siow Jin, a graduate from the prestigious Indian Institute of Technology. Dato´ Dr. Lim started the business in quest of the benefits of mushroom on human health.
All of the products are infused with Ganoderma lucidum in its most powerful form; a raw, whole food. This form provides 100% of the power of Ganoderma without losing any of its benefits. From a wide selection of coffeehouse beverages to top quality personal care items, there is truly something for everyone at GanoLife.
Healthy Habits coffee is enriched with Reishi (Ganoderma Lucidium), one the most versatile all natural herbs know to man. Every great tasting cup has 154 antioxidants and 200 phytonutrients that promote the body's ability to function in an optimal state.