Total Life Changes CEO Jack Fallon Signs Nearly $4 Million In Checks
April 10, 2014
By Team Business For Home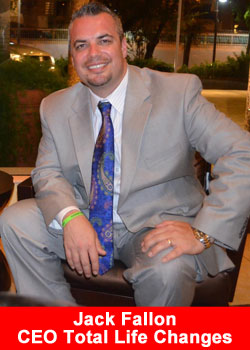 Total Life Changes CEO Jack Fallon signs nearly $4 million in checks to his top earners as TLC hosted this year's first major event at the World's Largest Marriott in Orlando, Florida, USA.
"It was a tremendous honor to share our company's success with our top twenty earners. We are especially proud of our newest members from Team USA.
They have made such a significant impact in such a short amount of time.
Kenny & Chante Llyod, Greg & Lenika Scott and Erwin & Twiler Portis are three "super couples" that are generating a tremendous interest in Total Life Changes' business opportunity and the benefits of our line of Iaso™ nutritionals, weight loss and skin care products in the USA", says Jack.
Each of these couples received $100,000 checks at the Orlando convention. This is a very intelligent group of couples that have a history of success in the network marketing industry. They have just scratched the surface of the U.S. market and recently announced Team USA's WorldWide Expansion Tour; hitting six U.S. cities, the Bahamas, Japan, United Kingdom and Brazil.
"It is all happening so fast, but I have the right people in place to support this success. Armand Puyolt is our top earner and continues to take TLC across all boarders. He serves as a master distributor and mentor to many of our company's rising stars. His greatest asset to the company is his ability and willingness to lead TLC into Latin America and share the company's vision and our product success stories with others at an aggressive pace," says Jack.
Armand is bi-lingual, and this has proved to be very beneficial, especially with the explosion of success TLC is now seeing in the United States. Armand just cut the ribbon to the newest corporate office in Fontana, California. It is a beautiful facility and will serve as a "will call" for product pick-up as well as a meeting place for conferences with a state-of-the-art theater. Ten of the top earners in Total Life Changes have been mentored by TLC President, Armand Puyolt.
"I explained at the convention in Orlando that what we have been able to accomplish thus far is fantastic, but what lies ahead is going to be truly amazing. I have lasting partnerships with industry leaders like Dale Calvert and Mike Demetro that will continue to strengthen our leaders in the field and provide duplication in our marketing and training systems," ads Jack.
Total Life Changes' 2013 Rewards

TLC Representatives

Reward Received

Armand Puyolt

$2,000,000

Eduardo Flores

$300,000

Dr. Esther Ramos

$250,000

Fred Herzog

$150,000

Kenny & Chante Lloyd

$100,000

Greg & Lenika Scott

$100,000

Erwin & Twiler Portis

$100,000

Lester & Gina Berry

$100,000

Francisco Ramirez

$100,000

TEAM USA

$100,000

Roger Velez

$100,000

Zonia Medrano

$100,000

Angel Flores

$100,00

Ulysses Alaniz

$75,000

Guadalupe Factor

$50,000

Miguel Rodriguez

$50,000

Candelaria Sanchez

$50,000

Ada Cabellero

$50,000

Waleska Baez

$50,000

Michael Factor

$50,000

(20) Reward Checks

Totaling: $3,975,000