Vector Marketing Corporation Presents 'Inner Circle' Award At Midwest Region Banquet
April 23, 2014
By Tina Williams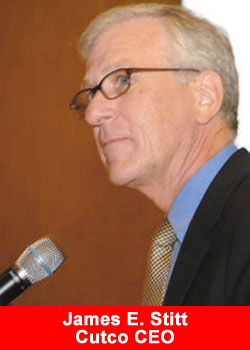 Even though January marks the end of the holiday season, it is an exciting month at Vector Marketing Corporation; it is the time when the company holds its Annual Awards Banquet in each of its six regions throughout the country.
The purpose of the banquets is to honor the accomplishments of the company's most outstanding sales professionals during the previous year. Among the 2013 honorees in the Midwest Region were fourteen sales representatives and managers who received the prestigious Inner Circle Award.
More than 400 hundred sales representatives, managers, friends and family gathered to honor these outstanding individuals, as well as other award recipients, on January 24 at the Renaissance Center in Detroit.
To qualify for the Inner Circle Award, individuals must attain $75,000 or more in personal sales, $400,000 or more in office sales, $650,000 or more in district team sales or $3,500,000 in division sales.
The 2013 Midwest Region Inner Circle recipients were:
Personal sales:
Brett Martinsen (North Buffalo): $99,092
Jena Van Skoik (Syracuse): $98,750
Marissa Gibbons (South Buffalo): $97,960
Jeff Zyck (Novi): $97,462
Steve Sharp (Columbus West): $92,439
Stefanie Furlong (Rochester): $89,124
Nicole Allen (North Hills): $88,792
Leslie Krebs (South Buffalo): $77,032
Office sales:
Andrew Smallwood (Louisville): $499,926
Logan Ellyson (Macomb North): $483,227
Aaron Foresman (North Hills): $452,918
Evan Howard (Chattanooga): $429,522
District sales:
Jake Dougherty (Grand Rapids): $706,223
Individuals who attain Inner Circle status receive a unique glass trophy commemorating their achievement.
"I am very proud of each of our Inner Circle Award Recipients," said Jeff Bry, Region Manager for Vector Marketing's Midwest Region. "They all worked very hard in the previous year, and I am certain they will continue to build upon their dedication and commitment to achieve continued growth in the coming year and beyond."
Vector Marketing Corporation is the single-level direct sales company which is the primary distributor of Cutco Cutlery produced by Cutco Cutlery Corporation, the largest manufacturer of high-end kitchen cutlery in North America. The 65-year-old company manufactures its cutlery products in the western New York State city of Olean.
Vector Marketing sales representatives typically begin selling Cutco in college. Some remain with the company after graduation and move up the ranks as managers, while others use the experience to benefit them in other careers.
About Cutco Cutlery Corporation and Vector Marketing
Cutco Cutlery is a 65-year-old company with headquarters and manufacturing facilities in Olean, New York. Vector Marketing is the company's sales division, coordinating all sales for Cutco Cutlery through a national network of college students who sell products through in-home personal demonstrations. More than 15 million US households have a Cutco product.