Vemmas' BK Boreyko Selected As Entrepreneur Of The Year Semi-Finalist
April 4, 2014
By Tina Williams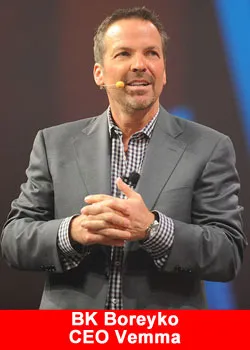 Congratulations to Vemma Founder and CEO BK Boreyko, who was selected by Ernst & Young as a semi-finalist for Entrepreneur Of The Year.
The Ernst & Young Entrepreneur Of The Year Award is the world's most prestigious business award recognizing the most influential and high-growth entrepreneurs. BK is among a handful of semi-finalists in the Mountain Desert Region section of the Entrepreneur Of The Year Program and was previously recognized with the award in 1998 for his former company, New Vision International.
Stay tuned to see if BK takes home top honors! Winners will be announced in June.
Vemma was founded by the Boreyko Family in 2004. Behind this company is the creative vision of Vemma Founder and CEO, BK Boreyko, who is passionate about helping people live the life they deserve.
BK leveraged his 20+ years experience in the wellness industry with his passion for creating unique ways to keep people healthy and founded Vemma, based in Scottsdale, AZ, in 2004. An industry leader, Vemma provides innovative products and a simple, generous compensation plan to help people live healthier and more rewarding lives. BK has successfully built two health and wellness companies with total revenues exceeding $1.5 billion.
Vemma has opened 50+ countries, including Japan, Taiwan, Malaysia, Kenya, Ghana, Uganda, South Africa, the Caribbean and Europe. The sales revenue for 2010 is est. $97 million. The sales revenue for 2011 est. $115 million.
Vemma, the newest and most exciting venture, combines the extensive knowledge of Vemma's Chief Scientific Officer, Yibing Wang, M.D., Ph.D., with its talented executive management team including more than eight decades of cumulative experience in the network marketing industry.
Vemma Products
Nutrition (Vemma & Next), Energy Drinks & Hydration (Verve & Thirst) Weight Loss, (BOD-e).