ViSalus 5-Star Ambassadors Ernest And Sherita Ross Earn Most Valuable Promoter (MVP) Award
April 26, 2014
By Tina Williams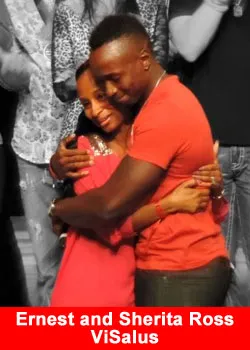 Driven by a passion to help people become healthier, ViSalus 5-Star Ambassadors Ernest and wife, Sherita Ross, were named Most Valuable Promoter to honor their achievements in 2013.
Given annually, the MVP award not only recognizes the Promoter who has made outstanding accomplishments in sales and team growth, but also for serving as an exemplary leader and inspirational example of the Vi mission. To date, Ernest and Sherita have helped thousands of individuals nationwide on the road to better health.
Joining ViSalus with no prior industry experience, Ernest Ross utilized his personal fitness training background to introduce people to the PROJECT 10™ Challenge and quickly worked his way through the Promoter ranks to become a 5-Star Ambassador in less than 18 months*. ViSalus is not just an opportunity, it is the opportunity, says Ernest.
When asked to comment on his method for success, Ernest emphasizes the importance of mentorship. If you align yourself with the right people and link up with a winning team, then you increase your chances of winning as well. ViSalus is my winning team, says Ernest.
Since joining ViSalus, Ernest has been able to see firsthand how his work has positively impacted his community. His goal is to provide less-fortunate individuals opportunities for achieving success—just as The Challenge did for him. It's one of the main reasons why he set up the Ernest Ross Foundation, which provides financial assistance and health initiatives, as well as brings hope to members of the community by staying on course with its mission statement: We will be influential making an indelible impact on society. We will be motivational inspiring others to positive action. We will be relational developing healthy relationships.
Ernest exemplifies what we stand for at ViSalus and he's proof that challenging yourself can not only make a positive impact in ones own life but throughout a community, said Nick Sarnicola, ViSalus Co-Founder and Global Ambassador. We're excited to see what he does this year.
As Ross works toward earning the Diamond Ambassador rank*, he challenges people to become healthier on a daily basis by asking, What are you waiting for? He believes that change starts now and that everyone can be a leader if they take the opportunity.
* Results not typical. Achievement in rank and income depends upon many factors such as hard work, determination, financial resources and social contacts.
About ViSalus
ViSalus, Inc. is a healthy lifestyle company that is dedicated to Taking Weight Off the World.™ One person at a time. 10 lbs. at a time. Founded in 2005, ViSalus develops high-quality weight-management products and nutritional supplements that it markets and sells direct-to-consumers through an international sales force of independent promoters. ViSalus markets its products in North America under the ViSalus ® brand and in Europe under the Vi™ brand, through the Body by Vi Challenge®. ViSalus is headquartered in Los Angeles, California and Troy, Michigan and is majority-owned by Blyth, Inc