Youngevity – 120,000 Distributors and $86 Million In Sales
April 29, 2014
By Team Business For Home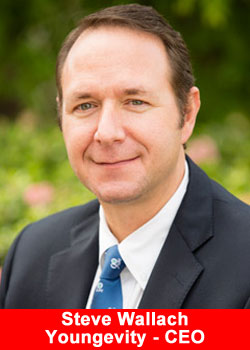 Growing direct-selling conglomerate, Youngevity Essential Life Sciences, a wholly-owned subsidiary of Youngevity International, Inc. (OTCQX: YGYI) (www.YGYI.com), welcomed nearly 2,000 distributors and customers from around the globe to the Youngevity® Spring Convention, which was held on April 24th through April 26th at the Anaheim Marriot Hotel in Anaheim, California.
With now more than 120,000 active distributors, Youngevity® is quickly becoming a leader in the direct selling industry. Youngevity® is now ranked 89th among the Top 100 Direct Selling Companies in the world by Direct Selling News®, the leading trade publication for the direct selling industry.
At the Convention, speakers included Youngevity® celebrity brand ambassadors, Marilu Henner, NFL Legend Drew Pearson, former NBA All-Stars, Theo Ratliff and Mike Glenn, as well as special guest presenter Michael Bernoff, and nutritional pioneer and Youngevity founder Dr. Joel D. Wallach, BS, DVM, ND.
Additional convention highlights include:
Youngevity President Bill Andreoli announced to a capacity crowd that, as previously stated on its recent investor call, the Company has achieved record revenue for Q1 2014 and has experienced consecutive revenue growth each month from December 2013 through March 2014.
Dave Briskie, Youngevity's CFO, released the initial plans of the global expansion strategy to a large delegation of Youngevity leaders representing countries from around the world, including Russia, Mexico, Israel, Philippines, Chile, and Colombia.
Celebrity fashion designer, Marisa Kenson, launched Youngevity's apparel and jewelry line to a sold out fashion show comprised of sixteen runway models and several celebrities in attendance. Marisa Kenson also provided a preview of the MK Collaborative e-tailing boutique. The announced fashion line would begin shipping by June 1, 2014.
Youngevity advisor and Direct Selling Hall of Fame Legend, Rhonda Kanning Anderson, announced the launch of "Our Memories for Life," an entire line of traditional scrapbooking products. Over 2,000 new distributors have joined Youngevity's Heritage Makers division over the last several weeks in anticipation of the release of this line of products.
Youngevity celebrity brand ambassador, Marilu Henner, inspired the audience with advice on how to live healthier, more active lifestyles as well as her plans to collaborate with Youngevity's GOFoods on a significant project.
NFL Legend, Drew Pearson, was the keynote speaker at the formal awards banquet where a record number of distributors achieved Youngevity rank advancements.
Introduction of new products, including:
Beyond Osteo-FX™: formulated to support healthy bone and joints and part of Youngevity's Healthy Body Start Pak is now available in convenient on-the-go stick packs.
Youngevity's GOFoods line launches an on-the-go nutrition bar and over 10,000 units were sold at the convention. All of the GOFoods food products feature the OU (Orthodox Union) Kosher certification, are vegetarian, and carry the Nutriversal Seal of Approval.
Root Beer Belly™: a root beer flavored probiotic supplement is now a top 10 best-selling supplement product for Youngevity.
Youngevity launched Water Mellon Mist, a children's multivitamin based on the probiotic sprinkle technology of Root Beer Belly™ and samples were distributed at the convention.
Youngevity Announced an expansion of products based on the advanced anti-aging supplement Imortalium®, a formula for the health professionals market.
Special guest presenter, Michael Bernoff, President and Founder of the Human Communications Institute, a leader in the personal and professional development industry, provided an inspirational and empowering speech to the Youngevity distributors.
Youngevity Scientific Advisory Board member, Sanjeev Javia, announced the winners of the Healthy Body Challenge, a challenge in which over 3,000 people participated.
CFO Dave Briskie announced the expansion of the Youngevity Be The Change Foundation to include all of CLR Roasters coffee products as well as its intention to acquire a coffee plantation to control the entire coffee production process from field to cup.
Youngevity announced that the expected results from the research study conducted at the Richardson Center for Functional Foods and Nutraceuticals at the University of Manitoba will be released in the next 30 days.
CFO Dave Briskie provided a comprehensive overview of the Youngevity Stock Option Rewards Program.
"This was the largest convention in our history and the energy and excitement from our record attendance was an inspirational sight," said Bill Andreoli, President of Youngevity. "Our distributors and customers were very enthusiastic about all of our announcements, especially about Youngevity moving up the ranks of the DSN Global 100 list as well as the launch of our apparel and accessories collection developed by celebrity fashion designer, Marisa Kenson."
"We are honored to be named among the top 100 direct selling companies in the world for the second year in a row," said Steve Wallach, Youngevity's Chief Executive Officer. "We are proud that Youngevity has distinguished itself as a leader in the industry and our sold out convention was the perfect setting to announce all of our remarkable achievements. We have an amazing community of talented and passionate people and we recognize and appreciate all of their accomplishments as a key factor driving our rapid growth."
About Youngevity International Inc.
Youngevity International Inc. (OTCQX: YGYI) (www.YGYI.com) is a fast-growing, innovative, multi-dimensional company that offers a wide range of consumer products and services, primarily through person-to-person selling relationships that comprise a network of networks. The Company also is a vertically-integrated producer of the finest coffees for the commercial, retail and direct sales channels. The Company was formed after the merger of Youngevity Essential Life Sciences (www.youngevity.com) and Javalution Coffee Company in the summer of 2011. The company was formerly known as AL International, Inc. and changed its name to Youngevity International Inc. in July 2013.