Carl Icahn Invests More In Herbalife
May 29, 2014
By Tina Williams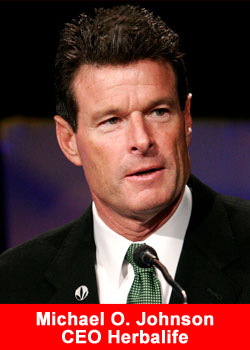 Icahn Associates added a new position in eBay (EBAY) and the quarter saw no stake disposals. Icahn raised the fund's holdings in Apple (AAPL) and Herbalife (HLF). Icahn's fund reduced its exposure to Netflix (NFLX) in 1Q 2014.
Icahn Associates slightly increased its existing position in Herbalife Ltd. (HLF) that accounts for 2.96% of the fund's U.S. long portfolio as per its 1Q 2014 filing. The holding was increased by 33,515 shares to 17 million shares in the quarter.
Herbalife is a global nutrition company that sells weight management products, nutritional supplements, energy, sports, and fitness products, and personal care products. As of March 31, 2014, the company sold its products to and through a network of 3.9 million independent members, which included approximately 0.2 million in China. Its products are grouped in four principal categories: weight management, targeted nutrition, energy, sports, and fitness, and outer nutrition, along with literature and promotional items.
In March, Herbalife announced plans to nominate three board members chosen by its largest shareholder, Icahn, who owns 16.8% in the company. Icahn has been defending Herbalife against a campaign waged by Pershing Square's William Ackman, who has accused the company of being a "pyramid scheme" that will be shut down. In December 2012, Ackman issued and presented a research report critical of Herbalife's multi-level marketing business model. He further disclosed that he was shorting $1 billion worth of Herbalife stock with a price target of $0. Icahn has been supportive of Herbalife and said it "is very undervalued." Investors such as George Soros and Daniel Loeb also own shares in the company. Herbalife denied Ackman's allegations and claimed the investor has spent more than $20 million to date on his campaign against the nutritional supplement company. It said earlier that Ackman's campaign is a "cynical, self-serving attempt to manipulate the market by buying his way into an investigation to cover his own reckless $1 billion dollar bet."
Herbalife sees robust sales and raises its outlook
Herbalife beat revenue and earnings estimates in its 1Q 2014 results. It posted first-quarter GAAP net income of $74.6 million, or $0.74 per share, down from $118.9 million or $1.10 a share in the same period the year before, primarily due to a foreign exchange loss for Venezuela. Adjusted earnings of $1.50 per share came in above estimates. Net sales of $1.3 billion reflected an increase of 12% compared to the same period in 2013, coupled with a volume growth of 9%. North America reported an 11.9% increase in net sales to $247.8 million, while China net sales surged 98.2% to $135.8 million, driven by the continued adoption and acculturation of daily consumption distributor methods of operation, or DMOs.
The company raised its outlook and for 2014 expects adjusted earnings in the range of $6.10 to $6.30 per share, up from the previous guidance range of $5.85 to $6.05. It also expects a sales increase in the range of 10.0% to 12.0%, up from the previous guidance of 7.5% to 9.5% growth.
Herbalife boosts its buyback in February
In February, Herbalife enhanced its share buyback program by 50% to $1.5 billion and also announced a $1 billion convertible bonds offering. The company said in April that it's terminating its quarterly cash dividend and is instead using the cash to repurchase additional shares during the second quarter of 2014. It expects to repurchase a total of $581 million of its outstanding shares as part of its previously announced $1.5 billion share repurchase program. As of April 25, 2014, Herbalife said it spent $255 million in April to repurchase approximately 4.5 million shares under the existing repurchase program. The company recently announced an agreement with Bank of America Merrill Lynch to repurchase $266 million of its common shares.
Herbalife has seen news of investigations by the Federal Trade Commission, the Securities and Exchange Commission, and the FBI into the company's business practices. Shares are down 20% year-to-date. Other multi-level-marketing companies like Herbalife are Nu Skin (NUS) and Usana Health Sciences (USNA).