Donald Sterling Pulls Amway's Rich DeVos Into Controversy
May 31, 2014
By Tina Williams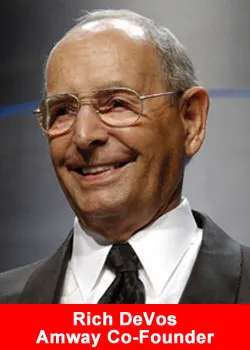 Embattled Los Angeles Clippers owner Donald Sterling isn't going down without a fight, and he is bringing Amway co-founder and Orlando Magic owner Rich DeVos into the fray.
In a lengthy response to the NBA – which has banished, fined him and pressured him to sell his team in the wake of racist comments – Sterling calls his treatment by the professional basketball league a sham. He suggests there is a double standard in how he is being treated for his racist comments versus anti-gay marriage comments made years earlier by DeVos.
In the document, Sterling notes DeVos has made highly controversial comments against individuals with HIV/AIDS and generously supports anti-homosexual causes with impugnity (sic).
Sterling is referring to an interview DeVos gave to The Grand Rapids Press/MLive in 2009, for the 50th anniversary of his company, which has grown into the world's biggest multi-level marketing company, selling cosmetics, vitamins and household products through more than 3 million distributors.
In the interview, DeVos says he donated $100,000 in 2008 in support of a Florida state constitutional amendment to ban gay marriage because it was a "sacred issue of respecting marriage."
"It was not an anti-gay thing," said DeVos at the time, noting he has been considered a foe of the gay community since he served on President Reagan's first AIDS commission.
"From that point on, that's when they were hanging me in effigy because I wasn't sympathetic to all of their requests for special treatment. Because at that time it was always somebody else's fault. And I said, 'You are responsible for your actions, too, you know. Conduct yourself properly,' which is a pretty solid Christian principle. You've got to take responsibility for your actions. It went from there to a series of requests for special treatment … ."
He added he supported gay unions, but not gay marriage.
"But marriage is a sacred document, OK? A sacred sacrament in the church and in the world.Don't mess with it."
He added that he has friends and employees who are gay.
"I respect them. They're terrific. I am good friends with them. But you live your life the way you want to live and I'll live mine and I won't stick my nose in yours. But don't keep trying to change things. That's all."
In the response to the NBA Board of Governors released Tuesday, May 27, Sterling said that in addition to his earlier comments, DeVos previously donated $500,000 to the National Organization for Marriage Education Fund, the group behind California's controversial Proposal 8 campaign, a constitutional amendment to prohibit same-sex marriage. NOM supports similar efforts in other states.
But Sterling's accusation is not accurate. The 2009 donation came from DeVos' youngest son, Doug DeVos, through his Doug and Maria DeVos Foundation.
That contribution, discovered in 2012, sparked a boycott of Amway and DeVos family businesses, including the Orlando Magic. The boycott is led by Fred Karger, the founder and president of Rights Equal Rights, created to fight Proposal 8.