Amway Honors Heroes
March 4, 2014
By Tina Williams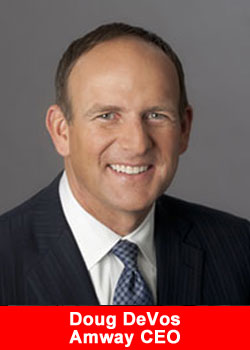 Hundreds of Amway Independent Business Owners (IBOs) give their time and resources to have a positive impact on the world. To recognize these efforts Amway North America has proudly announced the recipients of the fourth annual Amway Hero Awards for generosity, leadership, patriotism and determination.
Hero Award for Generosity
Through countless donations of their time and resources, Jody and Kathy Victor have set a powerful example of how strong leadership and generosity can make a difference. It doesn't matter if it's a little or a lot. It makes a difference in your life – and in the lives of others. This compassionate couple from Canton, Ohio is actively involved in both national and local organizations and has shown that giving back is a true family value. Their passion for philanthropy has supported causes like the American Heart Association, a scholarship fund at Ohio State University and a local baseball program for their community. Jody is also one of the founders of The U.S. Dream Academy, a cause especially close to their hearts. They both actively support the afterschool and mentoring programs that the U.S. Dream Academy provides, focused on empowering at-risk children. For decades of quiet philanthropy and making a lasting difference Jody and Kathy Victor have been awarded the 2013 Amway Hero Award for Generosity.
Hero Award for Leadership
As one of eight children, Bill Britt quickly developed the leadership skills that would support him as he enlisted in the army, served as the Assistant City Manager of Raleigh and then the City Manager of both Sanford andGoldsboro, North Carolina. Peggy realized these strong qualities and saw Bill's potential as a leader when they met. Peggy was the quiet strength and support behind Bill's success. Together they built their Amway business for 43 years and became leaders of leaders, creating one of the largest global IBO networks in Amway. Sadly, Bill passed away last January but he is survived by generations of leaders that will continue his legacy. Bill always said the meaning of success was if one person, or a situation, was better off because he was there. For their amazing ability to create leaders and improve the lives of others around the world, Bill and Peggy Britt are the recipients of the 2013 Amway Hero Award for Leadership.
Hero Award for Patriotism
As the son and grandson of veterans, Lynn Burnett always knew his passion was to serve his country. After serving several roles in the U.S. Army for 13 years and rising to the rank of Captain, Lynn left the military but has continued to serve his country. I wanted to impact people's lives in a positive way and serve my country again, he says. As a family the Burnetts volunteer and support soldiers and their families at a local USO inFederal Way, Washington. Still he insists he is not a hero but rather a patriot. As Lynn continues to build his Amway business he points out the patriotism that he finds in Amway. You can have personal freedom, like we do in America, yet not have the economic freedom to take advantage of it. You need to have personal freedom and economic freedom. That's what Amway is all about. For his humble service to America, Lynn Burnett is the recipient of the 2013 Amway Hero Award for Patriotism.
Hero Award for Determination
Renee DiSilva has endured more tragedy in the last decade alone than most of us will face in a lifetime. One year ago, following the untimely death of both of her parents, Renee's husband Alan, the love of her life, was killed in an accident. I had a choice of whether I'd let this end my life. Whether I'd do nothing and let it defeat me. But I want to be an example of being able to overcome. I want to be strong. Alan and Renee had built their family business while raising their two children in Edmonton, Alberta, Canada. After losing Alan, Renee allowed the Amway family business to slow down. Unexpectedly her team's participation in the BODYKEY by NUTRILITE™ 90-Day Weight Loss Challenge motivated her and renewed her goal to become a Diamond in her Amway business. She is determined to be an inspiration to her team and her children who helped her through the hard times. For her inspiring ability to persevere and become an example of courage and strength, Renee DiSilva is the recipient of the 2013 Amway Hero Award for Determination.
The honorees of the 2013 Amway Hero Awards were chosen by an independent panel of judges whose backgrounds include foundation work, the not-for-profit sector, community agencies and the ministry, from among hundreds of nominations.
AMWAY
Amway is one of the largest direct selling businesses in the world. In 2013 Amway reported global sales of $11.8 billion, a record for the organization. Founded in 1959 and based in Ada, Michigan, Amway offers consumer products and business opportunities in more than 100 countries and territories worldwide.