Herbalife Battle Being Turned Into A Movie
May 31, 2014
By Tina Williams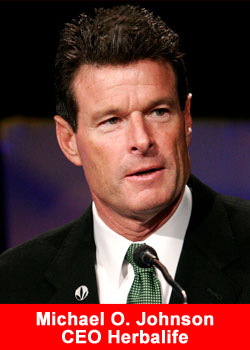 The battle between Herbalife and billionaire hedge fund manager Bill Ackman is moving to a new venue, the big screen.
Ted Braun, the award-winning director of Darfur Now, and Glen Zipper, who produced the Academy Award-winning documentary Undefeated, are teaming up to examine the complex world around Herbalife International.
The controversial worldwide company, which specializes in nutrition, weight management and skin-care products, has been in the news. In March, the companydisclosed it was under Federal Trade Commission investigation.
The battle with Ackman, who has called the company a pyramid scheme, will be a major focus of the untitled film that began production in November.
It's a natural subject for a feature documentary, says Braun. A year ago (Zipper) came to me with a range of different projects. Among them was a little reference to the conflict that had broken out with Ackman and Herbalife. That sparked my interest.
The look into Herbalife will be thorough and layered.
The goal is to explore this story through a number of characters through a number of different levels, says Braun. There's the global level, the way it's being playing out in board rooms and on Wall Street. But also there's a grass-roots level. The goal is to look at a complicated social problem through these different levels.
The company sells its products to millions of people who are independent distributors in more than 80 countries worldwide.
This company aspires to help people change their lives. And that's a social issue, says Braun. Bill Ackman feels it's a social problem.
Braun says he did not have a specific release date, but hopes it would be the early part of 2015.